Each year, the April issue of Texas Town & City Magazine, a publication of the Texas Municipal League with an audience of city leaders across the Lone Star State, focuses on tourism projects, initiatives, and events in which destination marketing organizations (like Visit McKinney) are involved. McKinney's largest tourism event, the AT&T Byron Nelson, is something an all-hands-on-deck project involving multiple departments across the city, so Visit McKinney pitched an article about it to the magazine. We were honored to have it selected for publication. Below is the text from that article, produced in-house at Visit McKinney.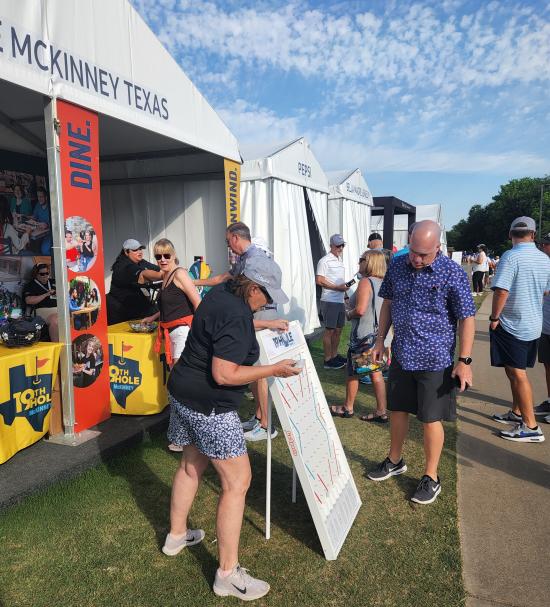 In 2021, the City of McKinney hosted the long-running AT&T Byron Nelson golf tournament for the first time. It was a bit of a departure from what attendees and fans of the well-known annual tournament had come to expect in the event's first foray outside of Dallas County since its inception in 1944. After all, the COVID pandemic shut the world down the year before, causing the cancellation of the golf tournament in 2020. The event's first year in McKinney would include a significantly scaled-down crowd - 10,000 attendees per day instead of the usual 30,000 to 40,000 per day – due to COVID protocols. But the fact it was going to be a smaller first outing didn't make it any less important to the City of McKinney. On the contrary!
 
"The Byron Nelson showcases our community on the world stage and is a strong promotional tool as we interact with businesses considering McKinney as their home," said McKinney Mayor George Fuller.
 
To leverage that visibility and visitation into the largest impact and best experience possible, the right message needed to be communicated to attendees.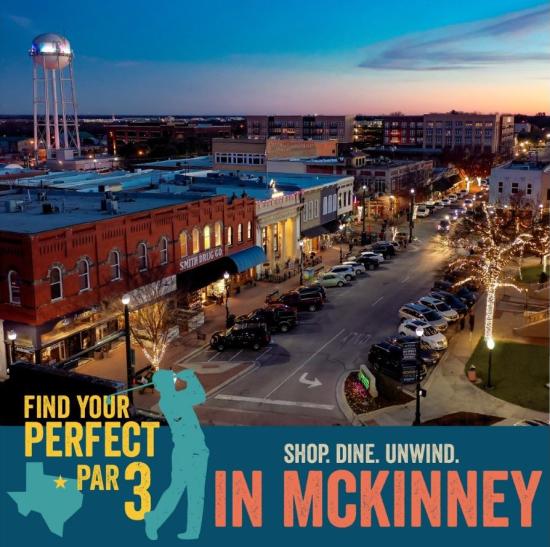 "The event wraps up around 5 p.m. every day, so the city wanted to encourage attendees to stick around longer in McKinney and experience even more of what we have to offer outside of the beautiful TPC Craig Ranch where they had just spent their day," said Aaron Werner, Visit McKinney Executive Director.
And Round One of McKinney's "19th Hole" campaign was born!
 
For that first year, the "19th Hole" messaging communicated to attendees was designed to drive traffic from the tournament to McKinney's picturesque and vibrant historic downtown square, where they could enjoy some of the best dining in North Texas and take in the nightlife and cultural experiences.
"We had rave reviews from guests and organizers alike that first year, which just encouraged the organizing departments to create something bigger and better for the tournament's second year," Werner said.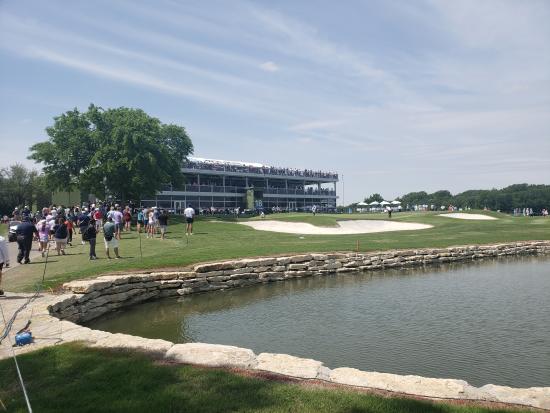 Moving into 2022 and knowing the event would be at full capacity, projected at around 40,000 attendees per day, the city's Byron Nelson marketing efforts needed to be larger, too.
Round Two of McKinney's "19th Hole" campaign was born with messaging that marketed the entire city as the event's 19th hole.
It was a true all-hands-on-deck production, involving staff members from Visit McKinney, McKinney Economic Development Corporation (MEDC), McKinney Community Development Corp (MCDC), Parks & Recreation, City Communications & Marketing, McKinney Main Street, and the City Managers' Office. Dollars were committed from each department's budget and each group dedicated to handle a piece of the puzzle.
 

The MEDC focused on the corporate side of the equation, organizing entertainment for the clients and prospective visitors in a VIP suite designed for top visibility and an unforgettable experience.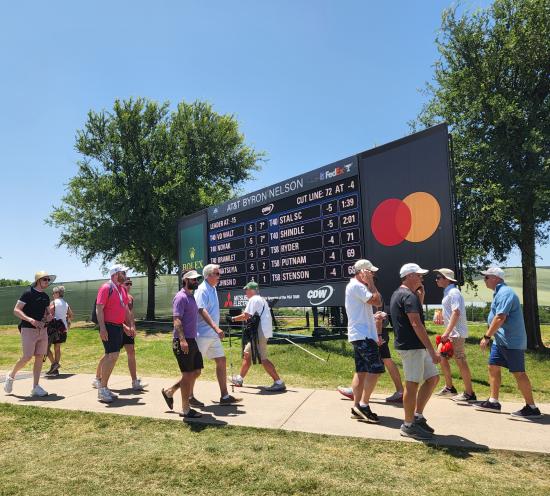 "The EDC has made the Byron Nelson our 'Red Carpet' signature event of the year to host national and international site selectors and prospects on the opportunities we have to offer," said Peter Tokar III, President and CEO of MEDC. "The value that the tournament brings to the city is unparalleled. Through buying local from McKinney small businesses to bringing thousands of tourists to our city, this tournament is making a lasting impact in our city economic ecosystem."
The remaining city departments in the event's marketing taskforce focused efforts on the leisure visitors' experiences from the print and digital marketing pieces and giveaway items to games and staffing at the event's welcome tent. The city's Communications Department helmed creation of the 19th Hole marketing campaign assets to ensure that all advertising and on-site collateral (tent, table coverings, handouts, giveaways, etc.) communicated the "Shop, Dine, Unwind in McKinney's 19th Hole" messaging. And all online traffic was directed to Visit McKinney's website and app where people were encouraged to enter a special 19th Hole McKinney weekend getaway contest, the end goal here being increased web traffic and new app downloads.
"We were intentional in pulling together representatives from across the organization to form a marketing subcommittee, which allowed us to collaborate and use one voice to showcase the city and all we have to offer," said Coco Good, City of McKinney Director of Communications and Marketing. "By combining our resources, we were able to make more impactful advertisements and reach more people throughout the metroplex."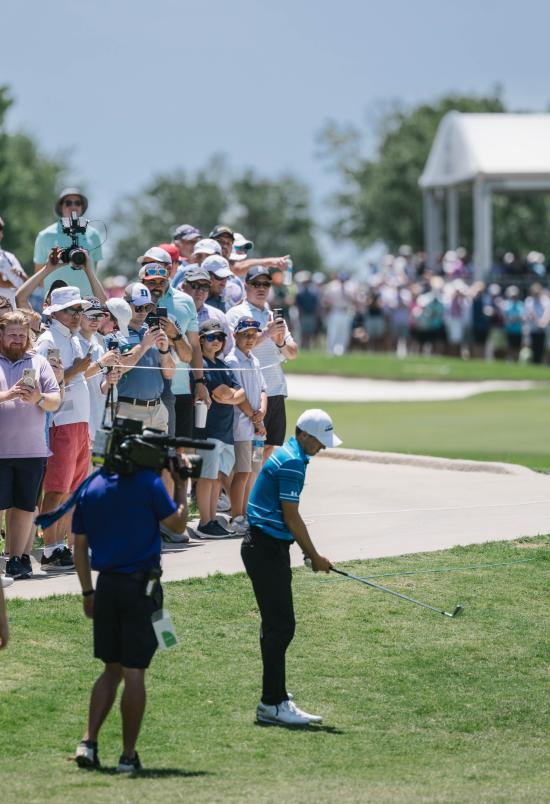 When all was said and done, this cross-departmental effort and the city's partnership with the Salesmanship Club, the host organization of the AT&T Byron Nelson since 1968, helped the City of McKinney realize $28.8 million in direct economic impact in 2022, with $17.9 million of that in direct spending. Overall, the first sold-out event since 2008 generated $55.4 million total economic impact across North Texas and supported 270 jobs, many of which start in February when the infrastructure build (i.e. multi-level suite structures and more) gets underway.
"McKinney is all about teamwork and collaboration, and the City's partnership with the Salesmanship Club in putting on the Byron Nelson, is a natural fit," said McKinney City Manager Paul Grimes. "Organizing an event of this size and complexity is not easy, but our outstanding team of dedicated staff make it look so."
 
The City of McKinney invites you to join us to experience the 2023 AT&T Byron Nelson in person at McKinney's TPC Craig Ranch this May 11-14. Details and tickets can be found at www.VisitMcKinney.com/attbn.

To see the article in its published form, turn to pages 36-37 of the flipbook found HERE.