There's no doubt about the fact that McKinney people love their dogs! Whether taking them to the dog park, celebrating them at a festival that's just for them, taking them for walks on the many miles of nature trails throughout town, enjoying dinner on a dog-friendly patio, or buying them treats at our local doggie bakery or other specialty shops, there are plenty of ways for you to enjoy time with your dog in McKinney!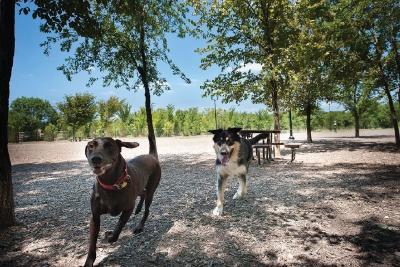 Bonnie Wenk Dog Park – This beautiful 216-acre park located at 2996 W. Virginia Pkwy. offers something for everyone in the family – young, old, and four-legged, too! With separate areas for large and small dogs, the two-acre lighted dog park provides plenty of space for dogs to run and play off-leash while their owners visit. A shaded pavilion, doggie splash pad, and water bowls help the pups cool off while playing, too. When not playing in the dog park, Bonnie Wenk Park's wide, paved trails connect to the city's lengthy trails system, providing plenty of space for long walks for leisure or exercise. (A friendly reminder that when at the dog park and while walking dogs at the park, please make sure to pick up after them. You'll find stations with the appropriate supplies placed in and around the dog park.)
Click the links below for more about McKinney's parks system:
Krewe of Barkus Mardi Gras Dog Parade – This tail-waggingly fun annual event features costumed dogs and their owners, marching around the downtown square, and winning prizes for the best costumes in various size and theme categories. This Art Institute of McKinney annual event, first held in 2007, changes dates each year as it takes place the Sunday before Mardi Gras. Before and after the event, attendees can peruse the tables and tents featuring vendors and pet rescues in Mitchell Park at Church and Louisiana.
Other McKinney Events with Dogs – The majority of events in McKinney are dog-friendly. Generally, those that do not allow dogs will indicate this in their publicity. Whether running or walking a 5K, strolling around the square at a downtown festival, shopping at Farmers Market, and such, you'll often see dogs of all shapes, sizes, and breeds.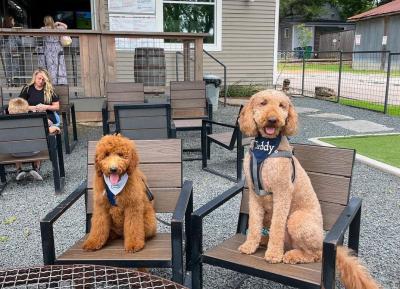 Dining with Dogs – McKinney's downtown square is extremely dog-friendly with many shop owners allowing dogs to come inside their businesses and some setting bowls of water to provide a quick drink for our parched four-legged friends! Many restaurant owners (not just those in downtown) have dog-friendly patios as well. Click HERE for more about patio dining in McKinney. We suggest you give the restaurant a quick call before heading there with your pup just to check on their current policy.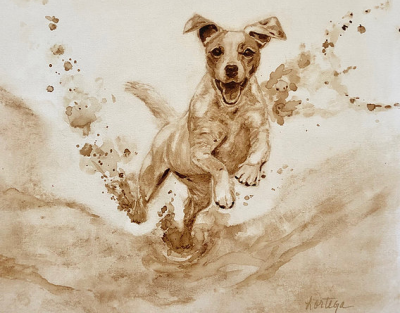 Paintings and Photography of your Pup – Our dogs are beloved members of our family and no doubt are in many of your family photos and video. But maybe you'd like to capture your dog's image on canvas to hang on the wall! Here are some options for you to consider:
Two McKinney artists from whom you can commission a piece of art of your pet are:

Taking Your Pup Shopping – Many of the businesses in downtown McKinney are happy to welcome your dog; just ask before you walk inside. The following stores catering to our four-legged friends are always open to visits from your pets:
Your Pups and Traveling: Several McKinney hotel partners allow for guests who travel with their pets. To learn more about these properties, click HERE.
For those needing to board their dogs in order to travel or for other purposes, check out the following places, some of which also offer doggie daycare services.*

* Please note that inclusion in this blog does not qualify as an endorsement of any of these merchants or services over any others in McKinney, nor have we received payment from any of them for inclusion in this blog post. We are including them as a matter of helpful reference for our readers.