Planning a Thanksgiving celebration and don't feel like cooking? Check out some of the holiday meal options available from some McKinney culinary businesses. We'll be adding more to these as we find them, so check back.
Rick's Chophouse
Relax this holiday with Thanksgiving dinner from Rick's Chophouse! Their fully-prepared holiday meal serves six to eight guests and comes with detailed reheating instructions. Order online at the link by 5 p.m. on November 19 and pick up on November 24! 

 
Hutchins BBQ
Don't let the upcoming holidays gobble up your sanity. Let Hutchins BBQ do the cooking! We're taking orders for smoked turkey, ham, and all their usual BBQ items and sides for the holidays. They require a 5 lb. minimum on meats ordered for pick up. Call Hutchins BBQ in McKinney at 972-548-2629. Pick-up slots will fill up fast so order soon! (The photo at the top of this blog post shows some of the meal options available from Hutchins!)
Fresh Mex
Why cook on the eve of one of the busiest cooking days all year? Order the "Day Before Thanksgiving Fest" meal package from Fresh Mex and let the cooking be on them that day! Orders must be in by Nov. 22 and delivery will be available for an additional fee. (See the image at right to see what's included in the package.)
Market Street McKinney
Don't sweat in the kitchen making dinner when Market Street does the work while you make memories with those you love.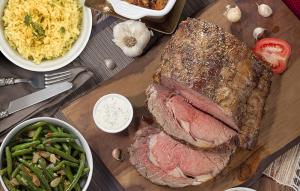 There are several options available  - a full turkey dinner that serves 8-10, a prime rib dinner that serves 4-6 (see image at right), and one featuring a sweet sliced ham that serves 8-10. Each of these comes with several sides and is fully cooked; just heat everything up when you're ready! You can add a holiday side dish box to your full dinner order, or just order one if you already have the meat handled. And you can order additional sides individually, too. Be sure to have your order in by November 21 to get your meal in time for Thanksgiving. Supplies are limited. Click HERE to view all the options and place your order today!
Local Yocal BBQ and Grill
You may have already taken care of the meat for your Thanksgiving feast, but you can fill in the rest of what you need with side dishes ordered ahead from Local Yocal BBQ and Grill. Order by Saturday, Nov. 20, to add some of the restaurant's specialties to your dinner table - sweet potato goat cheese mash, garlic smashed potatoes, green beans almondine, jalapeno cornbread, roasted balsamic Bacon Brussels Sprouts, and even "Naughty Nog" and a special pumpkin pie! (See the image at right.) Call them at 469-225-0800 or send your order via email to catering@localyocalfm.com.