Are You Ready for a Fun Challenge? 
Our McKinneyTX! Smartphone app offers some fun challenges, going about town to visit various attractions, restaurants, shops, and other fun spots in town during which you may interact with the locals in order to become more familiar with aspects of McKinney's culture, history, and economy.

Time Frame for the Challenge
None of the challenges are timed. Finish one or more in a day, over a weekend, or as long as it takes!

Getting Started
Before you can start your first challenge you'll need to:
1. Download the McKinney TX! app.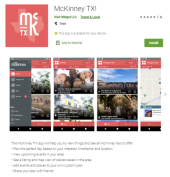 2. Create an account and log in. 
You will need to have an account to be able to check-in at the stops and complete the challenge.
3. Select the "Challenges" button to get started.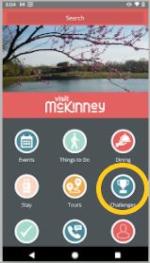 A screen showing the available challenges will appear and from there, tap the challenge you want to do and start working your way through the stops, remembering to check-in at each one.
4. Start the Challenge.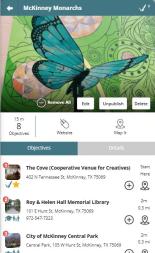 The stops on the challenge are listed below the challenge photo. Start in any order by clicking on the location box, then clicking "Details" to see your task. Complete the task and don't forget to check in before you move to the next location. Once you have completed a challenge (you've checked in at the designated number of spots per challenge), swing by the Visitors Center at 200 W. Virginia in downtown McKinney to show it to us and collect a small prize! And we'd love to have you take photos of you and your friends and family at the stops then post them on social media with the tags of  #VisitMcKinney or @VisitMcKinney.
Most importantly, HAVE FUN! 
McKinney Visit Widget & App Tour