Are You Ready for a Fun Challenge? 
Our McKinneyTX! Smartphone app offers some fun challenges, going about town to visit various attractions, restaurants, shops, and other fun spots across the McKinney community. Take the opportunity to interact with the locals, too, to become more familiar with aspects of McKinney's culture, history, and economy. There are tours and challenges currently on our app featuring history, pizza, sweets, nature, and public art. Make sure to check both the Tours and Challenges tabs on the app to find all the special themed ways to explore our city. 

Challenge Time Frames
Most challenges in the app are not timed unless one is specially created for a specific purpose that requires a time frame. Finish one or more in a day, over a weekend, or as long as it takes!
From time to time, we do partner with local organizations to do special challenges. We'll announce those here and on our social media.
Next Up: I Spy McKinney! - Sept. 17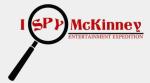 This is a ticketed event benefiting Meals on Wheels of Collin County, so if you'd like to participate in this fun race across McKinney, you'll need to grab a ticket online now. Participation is limited and this second-year event will definitely sell out. Participants will use our McKinneyTX! app to visit 10 entertainment spots across town where they'll check-in and complete a task before moving to the next stop. The event culminates with an awards presentation and concert by the Maylee Thomas Band at Hub 121. The event is sponsored by the Love Life Foundation.
Getting Started
Before you can start your first challenge you'll need to:
1. Download the McKinney TX! app.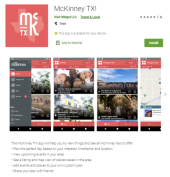 2. Create an account and log in. 
You will need to have an account to be able to check-in at the stops and complete the challenge.
3. Select the "Challenges" button to get started.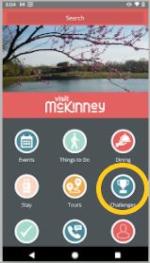 A screen showing the available challenges will appear and from there, tap the challenge you want to do and start working your way through the stops, remembering to check-in at each one.
4. Start the Challenge.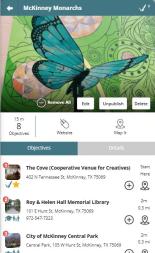 The stops on the challenge are listed below the challenge photo. Start in any order by clicking on the location box, then clicking "Details" to see your task. Complete the task and don't forget to check in before you move to the next location. Once you have completed a challenge (you've checked in at the designated number of spots per challenge), swing by the Visitors Center at 200 W. Virginia in downtown McKinney to show it to us and collect a small prize! And we'd love to have you take photos of you and your friends and family at the stops then post them on social media with the tags of  #VisitMcKinney or @VisitMcKinney.
Most importantly, HAVE FUN! 
McKinney Visit Widget & App Tour