National Travel & Tourism Week - May 7-13, 2023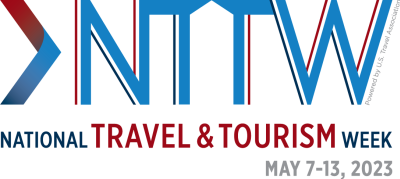 Each year in early May, professionals involved in the tourism industry celebrate National Travel & Tourism Week. Here in McKinney, we spend the week working to educate our locals on everything there is to do in McKinney to help them be our best ambassadors when their friends and family come to visit. We also share information all week long about the positive economic impact tourism has on McKinney, the Lone Star State, and the nation.
Now in its 40th year, National Travel & Tourism Week is focusing on "Travel Forward" by spotlighting travel's essential role in stimulating economic growth, cultivating diverse communities, creating fresh job opportunities, inspiring new businesses and uniting millions of Americans in a fundamental connection—travel. (from the U.S. Travel Associaton website)
AT&T Byron Nelson
What better way to celebrate National Travel & Tourism Week than by hosting McKinney's largest tourist event during the same timeframe? Get tickets, learn about where to stay, dine, and unwind when in the 19th Hole (hint: that's the entire city of McKinney!), and more by clicking HERE.
Free Walking Tours
During this special week, we're hosting two of our popular walking tours - one historic downtown walking tour and one public art tour. All tours are free and start at the Visitors Center where we'll provide refreshments. We encourage you to wear comfortable walking shoes. Each tour lasts roughly one hour. See the schedule of tours below:
Historic Downtown Walking Tour
These sessions are done in cooperation with the City of McKinney's Development Services and Historic Preservation Office and cover architecture and stories about McKinney's early businesses and the people who built McKinney into what it is today. 
Tuesday, May 9 at 9:30 p.m. - Destinee Agwuna from the city's planning department will be the tour guide.
Public Art Walking Tours:
During these walks, you will visit the downtown murals and other pieces of public art as the tour guides talk about the artists and the stories behind the art. 
Monday, May 8 at 11 p.m. - Magda Dia, owner and artist/teacher at Jump Into Art Studios, will be the tour guide.
Wednesday, May 10 at 10:30 p.m. - The tour guide is Sherri Murphy, an artist and teacher at Jump Into Art Studios.
Our McKinney TX! Smartphone App
We invite you to download our McKinney TX! app, and enjoy taking part in tours and challenges available there, taking you to McKinney parks and nature areas, public art, historical spots, pizzerias, sweets shops, and more! You can access the online widget HERE and the app is downloadable on the iOS Apple App Store and Google Play stores.
The video at the bottom of this page illustrates how the online widget and app work together to make planning your trip a breeze!
Stop in at the Visitors Center
Despite the fact we're under renovation, our Visitors Experience Center is still open Monday-Friday, 8 a.m.-5 p.m. Stop in to get visitor info and to enjoy a variety of giveaways and refreshments.
Visit McKinney App Usage Video