National Travel & Tourism Week - May 1-7, 2022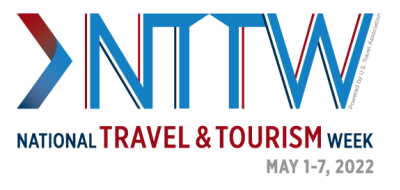 Each year during the first week of May, professionals involved in the tourism industry celebrate National Travel & Tourism Week. Here in McKinney, we spend the week working to educate our locals on everything there is to do in McKinney to help them be our best ambassadors when their friends and family come to visit. We also share information all week long about the positive economic impact tourism has on McKinney, the Lone Star State, and the nation.
The 2022 theme for this year's observation is "The Future of Travel" as those of us in tourism regroup and move forward greeting travelers and planning events after a couple years of interruptions caused by the COVID pandemic. 
Free Walking Tours
During the week, we'll hold two types of walking tours - one historic downtown walking tour and one public art tour. All tours are free and start at the Visitors Center where we'll provide refreshments. We encourage you to wear comfortable walking shoes. Each tour lasts roughly one hour. See the schedule of tours below:
Historic Downtown Walking Tours
These sessions are done in cooperation with the City of McKinney Historic Preservation Office and cover architecture and stories about McKinney's early businesses and the people who built McKinney into what it is today. 
Monday, May 2 @ 10 a.m.
Tuesday, May 3 @ 3 p.m.
Wednesday,  May 4 @ 3 p.m - kid-friendly!
Thursday, May 5 @ 10 a.m.
Friday, May 6 @ 3 p.m.
Public Art Walking Tours:
During these walks, you will visit the downtown murals and other pieces of public art as the tour guides (all are McKinney artists/teachers affiliated with Jump Into Art Studios) tell attendees more about the artists and the story behind the art. 
Monday, May 2 @ 1 p.m. (Guide: Magda Dia)
Wednesday, May 4 @ 10 a.m. (Guide: Sherri Murphy)
Friday, May 6 @ 10 a.m. (Guide: Beth Mortenson)
Our McKinney TX! Smartphone App
During National Travel & Tourism Week, we'll be unveiling new challenges/tours on our McKinney TX! app, and we'll offer a variety of giveaways and goodies to our Visitors Center visitors and to people completing our app challenges. You'll find challenges that'll take you to McKinney parks and nature areas, public art, historical spots, pizzerias, sweet treats, and more! We'll be adding more all week to keep you busy exploring McKinney! You can access the online widget HERE and the app is downloadable on the iOS Apple App Store and Google Play stores.
The following video illustrates how the online widget and app work together to make planning your trip a breeze!
Visit McKinney App Usage Video
More details about National Travel & Tourism Week in McKinney are coming soon!