Visit McKinney Wins for Five Consecutive Years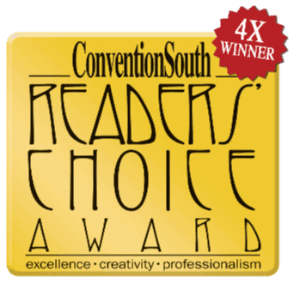 Visit McKinney's website features a digital-only "Meeting Planners Guide" which replaced the previous version that was composed mostly of downloadable materials. Now when meeting professionals need information about hosting meetings in McKinney, everything is at their fingertips without having to download any documents and forms. 
"Our organization has always worked diligently to provide planning professionals and their attendees with the best possible experience when they choose to host a meeting or event in one of McKinney's unique venues. We're thankful to have such wonderful tourism partners across the city - venues, hotels, restaurants and attractions - who share our enthusiasm for showcasing our city to all who visit here," said Dee-dee Guerra, Executive Director of Visit McKinney.
Visit McKinney was previously honored with the Readers' Choice Award by Convention South readers in 2016, 2017 and 2018.  In 2015, Convention South reader's named McKinney among their top 50 most improved or new locations for meetings and conferences. The 2015 award was presented the summer following the opening of the city's first conference center located at the Sheraton McKinney. 
Celebrating more than 30 years as a leading meeting planning resource, Convention South magazine is based in Gulf Shores, Ala., and is distributed to more than 18,000 meeting professionals located across the country who book meetings held within the South, according to Bradford.

 "We send a heartfelt 'thank you' to Convention South readers for honoring our organization and our city with this designation," Guerra said.