Come Celebrate the Solar Eclipse in McKinney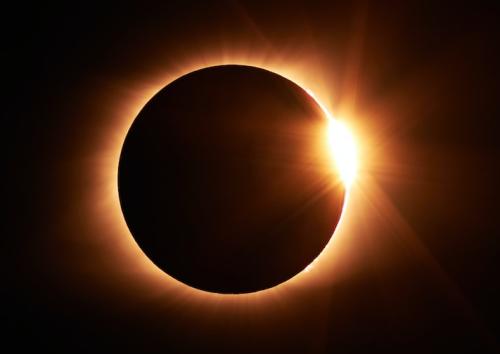 (Please note: This page will be updated regularly as more plans are made and announced for the April 2024 total solar eclipse.)
We're excited to welcome you to McKinney for this rare celestial event - taking place Monday, April 8, 2024 - at least rare to us in North Texas. Here in McKinney, we'll be able to view the solar eclipse's totality for almost four full minutes and the partial eclipse before and after totality for a couple of hours!
Check out the resources below to find McKinney hotels offering special rates for our out-of-town visitors, information on things to do while in McKinney, and other information about the upcoming solar eclipse. 
Also, watch for activities (to be announced) being planned for the weekend before and day of the eclipse.
Hotel Booking Information for Total Solar Eclipse in April 2024
Below are hotels that have set up special booking links for our Solar Eclipse visitors. (Click the hotel name below to access the special booking link. Find details about the offers in the FAQ section below.)
Events in McKinney for Total Solar Eclipse on April 8, 2024
Two City of McKinney events are in development for the Total Solar Eclipse on April 8, 2024. Plans will be announced here as soon as they are finalized, but they will be taking place at:
Gabe Nesbitt Community Park and Sports Complex - This event will feature family activities including eclipse viewing. More details to come.

Downtown McKinney - Visitors and locals will be encouraged to grab lunch before, during, and/or after the solar eclipse, and a rooftop ticketed event is in the works.
Other Events Taking Place in McKinney
We will be posting all other events being planned in the city here on this page. And if you are an organization that is planning an event open to the public, please submit it HERE and make sure to indicate it is a Solar Eclipse event. 
McKinney Observed the Annular Eclipse this Fall
Prior to the total solar eclipse in April 2024, Texas was also in the path of an annual solar eclipse on Oct. 14, 2023. We found this information about this annual eclipse HERE: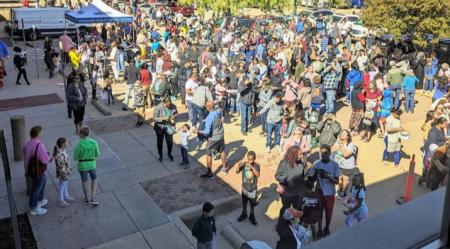 "During an annular solar eclipse, the apparent size of the Moon's disk is slightly smaller than the apparent size of the Sun's disk. Therefore, only the outer edge of the Sun remains visible and the Sun appears as a brilliant ring if you are inside the path of annular solar eclipse. This is an otherworldly sight often called a "ring of fire". 
McKinney was not in the center of the "ring of fire" path, but we did experience about 77% coverage. The City of McKinney hosted an annular eclipse event that day at the Roy and Helen Hall Library in Downtown McKinney. Roughly 4,000 people attended. 
McKinney Solar Eclipse FAQs
What exactly is a total solar eclipse?

A total solar eclipse occurs when the Moon passes directly between the Earth and the Sun, completely blocking the Sun's bright disk for a brief period. This results in the daytime sky darkening dramatically, with only the Sun's outer atmosphere, the solar corona, visible as a glowing ring around the Moon. Total solar eclipses are rare and highly anticipated events, providing a stunning visual spectacle. They occur along a narrow path on Earth, and observers within this path experience the awe-inspiring moment when the Sun is entirely obscured by the Moon.
What is the safest way to watch a solar eclipse?

Watching a solar eclipse safely requires protective eyewear specifically designed for this purpose. The Sun's intense rays can damage the eyes when viewed directly, even during an eclipse. Special eclipse glasses or viewers with certified solar filters provide essential protection, blocking harmful radiation while allowing safe viewing. Looking at an eclipse with the naked eye can lead to serious and irreversible eye damage, as the Sun's brightness and harmful UV rays can cause severe harm to the retinas, making proper eye protection crucial. Visit McKinney is ordering special approved eclipse-safe glasses for our guests (as supplies last). Hotel package guests will receive these glasses as part of their reservation.
What hotels are offering special room rates?

Below are hotels that have set up special booking links for our Solar Eclipse visitors. (Click hotel name to access booking link.)

Book Hotel Room at XYZ
When are most of the shops open in downtown McKinney?

The majority of the shops in downtown McKinney are open Tuesday-Saturday, 10 a.m.-5 p.m. There are many that are open on Mondays during these same hours and on Sundays usually between noon and 5 p.m. Most restaurants open around 11 a.m.

Read More
What Will the Solar Eclipse Look Like from McKinney, TX?