Do you love great food? Do you enjoy watching cooking competitions on television? Did you know you can become a certified Food Sport competition judge? And the best part is that you can gain that certification right here in McKinney! 
Becoming a World Food Judge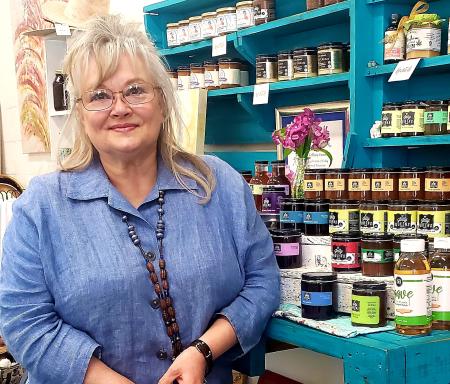 Donna Collins, owner of The Jelly Queens shop in Historic Downtown McKinney, will host her first 2022 World Food Championship (WFC) "Licensed to E.A.T." hands-on food judging class in McKinney on Sunday, April 24 at the McKinney Flour Mill. Donna will use the E.A.T.™ Methodology Training that teaches about the appearance, execution, and taste to instruct participants on what it takes to make a specific dish the best it can be as well as what to consider when judging a dish during a competition. The April 24 class involved a "Brisket Biscuit Throwdown" after which the winner will receive a Golden Ticket to compete in the 2023 World BBQ Championship. Her upcoming July 31 class, also scheduled to be at The Flour Mill, will feature a Cinnamon Showdown!
By purchasing a ticket to the class, participants will receive instruction, complimentary drinks and snacks, and also witness the Cinnamon Showdown competition. After completing this "Licensed to E.A.T." course, participants will be eligible to judge at the World Food Championship in Dallas in November, and any other food competitions - qualifiers for the WFC - that take place anywhere in the world. Class size is limited, so grab a ticket while they're still available.
"Most competitors work to perfect their dishes all year long ... everyone from home cooks to professional chefs, and people of all ages," Donna said, mentioning that a 14-year-old competitor came in near the top spot in the soup competition. "It's fun to see these people hone their craft so intensely. They cook the same thing every week for 10 months, perfecting it and getting the preparation process down to two hours or less!"
So how did Donna get involved in the world of food competition judging? She has been involved in a variety of enterprises in her lifetime, including having a counter of her jewelry at Neiman Marcus and serving as the artist-in-residence for the Saudi Royal Family. She has moved 68 times in her 68 years, so life is always introducing something new into her world. The life-changing development that drew her into the world of food competition was when a friend submitted her as a contestant on TV's MasterChef with Gordon Ramsey in Season 2 (2011) because of the incredible jellies and biscuits she was making. Donna was among the top 100 chosen to compete from the 39,000 cooks/chefs who auditioned. She didn't get into the rounds that were aired, but the judges told her during her round that she needed to go home and start a food business ... and that is what she did! But more about that in a minute.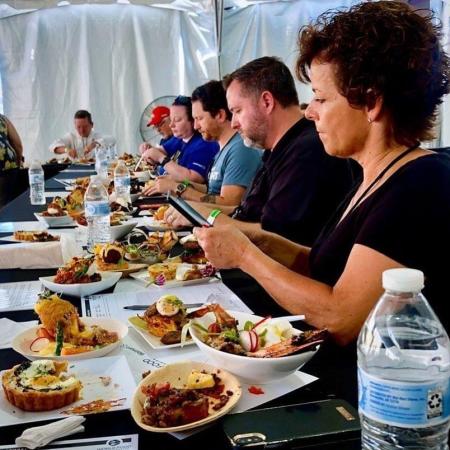 Donna loves being part of the WFC world, entering her own products in competitions, and even in 2014, being invited to be a speaker at the Food Writers Blogging Convention during the World Food Championships in Las Vegas. She fell in love with the event and started attending a variety of competitions including the WFC held in Orange Beach, Alabama, at the time she attended.
"I decided I needed to do whatever I could to encourage the show organizers to bring the world competition to Dallas and I needed to convince the City of Dallas to host it," Donna said. "It took me 18 months of talking to everyone I knew to get the City of Dallas to agree to host for five years."
The WFC will be held from Friday, Nov. 5, to Tuesday, Nov. 9, at Centennial Hall in Fair Park. And she wants to help some McKinney-area food lovers become judges so they can take part in the fun in November.
"Over the course of the week, the competitors will be preparing 8,000 meals that'll be taste-tested by 400 judges," Donna said, explaining that judges can select any of the competition categories they wish to judge. The WFC schedule and categories, which include bacon, steak, vegan, soup, desserts, sandwiches, and more, can be found HERE. Donna even has her own category, too, to oversee - the Biscuits & Jampionship division with a prize purse of $5,000.
For the Love of Food
Over the years, Donna has discovered, while being involved in food competitions, the aspect she loves most is that food and sitting down to eat transcends all divisional lines.

"The common table experience is a heartwarming thing that is so special to watch and be part of," she said. "When people sit down to enjoy food, it is their joint love of food - not politics, religion, or something else - that brings them together and makes good friends!"

Birth of The Jelly Queens Business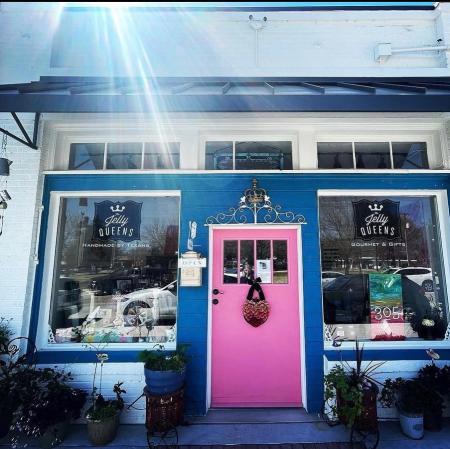 Over the past 10 years, Donna has won 29 world awards for her jelly varieties. The ingredients she uses in her products all come from farmers she gets to know and who get to know exactly what she needs, and she prides herself on making everything as green and organic as possible. Prior to the pandemic, The Jelly Queens was wholesale only, but the COVID shutdown changed many a business model including this one. Donna met with one of her business partners and longtime friend Stephen Howell (of McKinney's longtime Howell Furniture family), to discuss the possibilities of opening a brick-and-mortar location. They secured their storefront on West Louisiana - 305 W. Louisiana - in downtown McKinney and opened in July 2021.

The shop is currently open to the public Thursday-Saturday, and Donna spends the early part of the week when the shop is closed cooking and filling wholesale orders. Her products can be found in small "boutique" stores coast-to-coast, regionally in Whole Foods (if you don't see it, ask the store to get it!), and have just been accepted by select Brookshire's. On the first Friday of every month, Stephen Howell works in the store, doing wine bottle and jewelry engraving by special order through his business, "The Sharpest Edge." 


The Jelly Queens shop, the only one with a pink door in downtown McKinney, offers a variety of jellies and other food items as well as a wide range of gifts. Guests to the shop will also see Donna's numerous ribbons and other awards. Products are also available from her website.