About Visit McKinney
Our Core Purpose
To promote McKinney in order to attract visitors and travelers.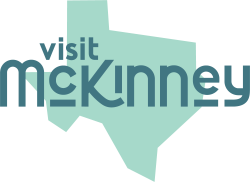 Visit McKinney Mission Statement
To generate economic impact by influencing event planners and leisure and corporate travelers to choose McKinney as their destination. 
 
Visit McKinney Designations & Awards
Texas Music Friendly Community - Designation by Texas Music Office of the Office of the Governor, May 2020
Best Tourism Promotion Organization - LuxLife Magazine, Travel & Tourism Awards 2020
Certified Texas Film Friendly City - Texas Film Commission/Office of the Governor, 2019 
2020 Reader's Choice Award - ConventionSouth (magazine/website), 2020
2019 Reader's Choice Award - ConventionSouth (magazine/website), 2019
2018 Reader's Choice Award - ConventionSouth (magazine/website), 2018
2017 Reader's Choice Award - ConventionSouth (magazine/website), 2017
2016 Reader's Choice Award - ConventionSouth (magazine/website), 2016
Top 50 Renovated/New Meeting Sites/Providers - ConventionSouth, 2015​
Tourism Acclaim for McKinney
Texas Highways Top 40 Destinations
McKinney was ranked #17 on Texas Highways Magazine's Best Destination Top 40 list in 2014.
 
More About McKinney, Texas
Located just 30 miles north of Dallas, McKinney offers visitors the perfect getaway destination, with its tree-lined streets, historic downtown and tight-knit community giving this fast-growing city a friendly, small-town feel despite the city's population of nearly 195,000 in January 2020. Home to one of the state's largest historic districts, McKinney's charm, and comfortable pace is quite different from the metroplex's urban sprawl. These attributes prompted Money Magazine to select McKinney as is #1 Best Place to Live in America in 2014.
 
Visitor Services
Visit McKinney (formerly the McKinney Convention and Visitors Bureau or MCVB) strives to bring visitors to the community to generate economic impact by promoting and developing McKinney as a destination for business and leisure travelers alike. We hope to help them fully experience McKinney's historic charm and friendly unique atmosphere, to enjoy themselves so much, they can't wait to bring their family and friends back with them again. 
Visit McKinney works with individuals, tour operators, brides, reunion groups, meeting and event planners, travel writers and other journalists and our tourism partners (attractions, hotels, restaurants and cultural venues) to help visitors enjoy their time in McKinney. Our services, all free of charge, include: 
Providing visitor information to meet the visitor's needs – brochures, maps, calendars, etc. 
Helping secure hotel room blocks
Conducting site visits and suggesting venues to suit the needs of the visitor or event planner
Negotiating meeting/event venue contracts
Creating itineraries for tour groups, travel writers and event attendees to incorporate their areas of interest, be it history, do it yourself, environmental, gardening, live entertainment, "slow" / organic foods, etc. 
Supplying visitors with contact information for local vendors including caterers, musicians, linens / tables / chairs, audio / visual, corporate gifts, photographers, videographers, transportation, decorators and more 
Providing goody bags to leave in hotel rooms of your out-of-town guests
 
McKinney Market
Visitors and residents alike love stopping into the Visitors Center for information and to check out the gifts and souvenirs in our store, McKinney Market. We offer both McKinney and Texas-themed items including t-shirts, ballcaps, books, postcards, note cards, coffee mugs, shot glasses, flour sack towels, prints by local artists, and more. 
 
Contact Information
From beginning to end of any visit to McKinney, the team at Visit McKinney is happy to serve as your partner so you and your guests can make the most of your visit to our quaint, historic community. For more information and assistance, you can reach us at 888-649-8499, or locally at 214-544-1407. You can also email us. 
 
Member Organizations
Visit McKinney is a member or partner of the following organizations: