Historic District Tours
Step Back Into History with a Tour!
McKinney's sizeable historic district provides ample opportunities to see and learn about McKinney from its founding in 1848 (incorporated in 1849) until today. Enjoy a walking tour, a tour on the trolley, or a visit to a historical attraction to learn more about McKinney's roots.
Guided Historic Walking Tours
McKinney walking tours give residents and visitors a peek into the history, stories, and people that shaped our city. In conjunction with the city's Historic Preservation Office, Visit McKinney offers these free historic district walking tours on the second Tuesday and fourth Saturday each month. A snack and water are provided and we suggest participants wear comfortable walking shoes. All tours leave from the Visitors Center at 200 W. Virginia. Some of the tours are kid-oriented so check our website calendar for details. If you have questions, reach out to the Visitors Center at 214-544-1407 or via email. 
We have scheduled the following tours from July through September:
Tuesday, 9/14, 9:30 a.m.
Saturday, 9/25, 11 a.m.
Tuesday, 10/12, 9:30 a.m.
Saturday, 10/23, 11 a.m
Saturday, 11/20, 11 a.m
Saturday, 12/18, 11 a.m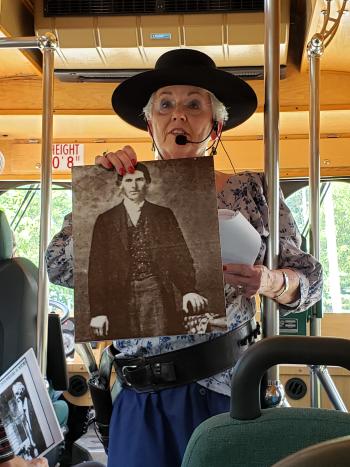 Trolley Tours
Trolley tours are offered every second Saturday and leave from Chestnut Square Heritage Village at 10 a.m. on tour days from April through November. Tours are $10 for adults and $7 for children under 12, seniors, and military. During Farmers Market season, tickets are available at the Information Booth located at the intersection of Anthony and Chestnut Streets. Secure tour spots early as seating is limited. 
 
Self-Guided Historic Walking Tours
Guided walking tours may not be scheduled on a day you feel like exploring McKinney's sizeable historic district. Treat your family and friends to a self-guided tour of either the historic downtown commercial district or residential district with tools provided online and accessible from your smartphone by the city's GIS department.