Venues: Virtual Tours & Videos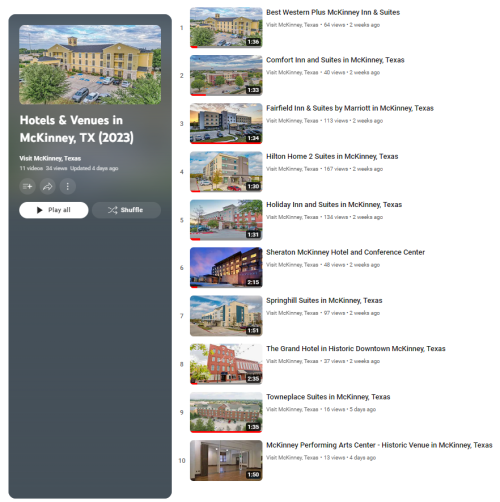 We're here to assist you in finding just the right McKinney venue for your meeting or event as well as finding the best overnight accommodations for your guests. 
Visit McKinney partnered with a local videographer to capture video tours of several local hotels and venues to allow you to view the rooms, common areas, business suites, and meeting spaces available across McKinney. We've built a playlist of these videos on our YouTube channel and invite you to explore them. (To do so, click on the image at right.) And you'll find links below to videos of a few other meeting and event venues in our community.
To schedule an in-person site visit, please contact the Visit McKinney sales team at 972-547-2058 or email our sales team at sales1@visitmckinney.com.
Our services are always complimentary.