Performing Arts & Theater
The Comedy Arena
The Comedy Arena prides itself on producing all types of comedy styles, from sketch, to stand up, but especially improv. They don't just put on shows; it's a venue that teaches students how to become comedic performers and take the stage whether for performance purposes or just in life. The Comedy Arena is available to host your private events as the arena/theater itself can be bought out for a day/night if needed. 
 
McKinney Repertory Theatre
McKinney R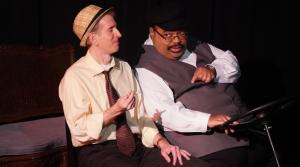 epertory Theatre (MRT) was incorporated in early 2003 by a group of local amateur actors who had worked together for several years and wanted to bring the gift of theatre to McKinney. Since its founding, MRT has become McKinney's Official Community Theatre and is supported, in part, by a grant from the City of McKinney through the McKinney Arts Commission (MAC). This group holds open auditions for its productions which it presents several times a year including the annual A Christmas Carol performance. MRT is also the parent organization to the McKinney Young Actors Guild (YAG), a junior group that presents its own productions.

Ovation Academy for the Performing Arts
The Ovation Academy provides a home for young artists who want to pursue their passions for the performing arts through professional training. The programs offered at Ovation are designed to provide opportunities to learn the techniques, life-skills, experiences, and connections necessary to succeed in the acting and music industries. Ovation Academy strives to produce knowledgeable, respectful, empathetic, and impactful artists who will contribute to their communities and to the performing arts industry. Ovation's goal is to create a supportive, inclusive, collaborative, and safe environment for young artists to thrive.