Historic Downtown McKinney Cultural District
McKinney has one of the oldest, most lovingly preserved, and largest historic districts in Texas. The downtown historic district draws people from all 50 states and more than 90 countries to its nostalgic setting and its more than 120 unique shops including art galleries, furniture stores, antiques, gifts, home décor shops, and apparel and accessory boutiques as well as other specialty shops! (You'll find listings of many of the shops around the downtown square by scrolling down on this page, just above the Instagram feed that sits at the bottom of the page.) 
Almost two dozen eateries in and around the historic downtown offer some of the best culinary experiences in North Texas with many of them sourcing their ingredients from local farmers. (You can access a list of Downtown McKinney restaurants by clicking the Dining button below.)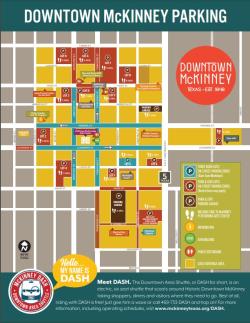 Historic Downtown McKinney is a true destination. Stroll the square and see a show, taste a new wine, enjoy the live music, or just find a spot on a restaurant or winery patio and people-watch! This atmosphere, created by the blend of new and old, historic and trend-setting, makes the downtown square the perfect spot for daytime festivals and nightlife activities!
Parking in Downtown McKinney
There is FREE parking available all around the historic downtown, some that have a three-hour limit (Three-for-Free) and other lots that are Park & Stay. Two parking garages also offer covered parking, one on the north and one on the south side of the square. For a larger version of the parking map, click the image at right. And for details about the parking lots and garages, click the Downtown Parking button below.