Drum Corps International in McKinney
Coming July 25, 2023 - Check out the line-up below!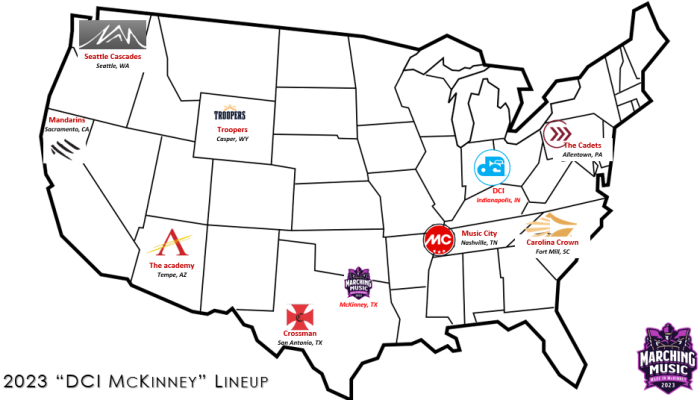 Make plans NOW to attend the 2023 DCI event in McKinney taking place on Tuesday, July 25, 2023, at McKinney ISD Stadium. And we received the line-up of drum corps that will be visiting McKinney to perform! We can't wait to watch these musician-athletes compete for points on their way to the DCI Championships taking place August 8-14 in Indianapolis, Indiana.
The Academy, Tempe, AZ
The Cadets, Allentown, PA 
Carolina Crown, Fort Mill, SC
Crossmen, San Antonio, TX
Mandarins, Sacramento, CA 
Music City, Nashville, TN
Seattle Cascades, WA 
Troopers, Casper, WY
Watch our website for the ticket link when it becomes available! And watch here, too, for details to come on other community events involving the corps personnel while they're in McKinney, including the drumline event on Monday, July 24. 
A Wrap-Up of the 2022 Event
The City of McKinney, McKinney ISD, and Marching Music Made in McKinney hosted its first Drum Corps International marching band exhibition and competition events during the Texas leg of the 50th Annual Drum Corps International (DCI) Tour in July 2022. The event took place July 26 at the McKinney ISD Stadium & Community Event Center at 4201 Hardin Blvd. A drumline event featuring the percussion battery from the World Class corps, Santa Clara Vanguard, took place at TUPPS Brewery the night before (on July 25). Fans enjoyed both sell-out events - 325 attendees at TUPPS, and 5,000 at the stadium for the competition on what was DCI's last night of their 2022 Texas Tour.  
We look forward to having the DCI corps and their crews and staff members, fans, family, and more back in McKinney next July for even more great marching music events!