About Visit McKinney Experience Center & Shop
200 W. Virginia, McKinney TX 75069 in Historic Downtown McKinney
Open Monday-Friday, 8 a.m.-5 p.m., and Saturday, 11 a.m.-4 p.m.
Visit McKinney's mission is to ensure McKinney is the most welcoming gem in Texas.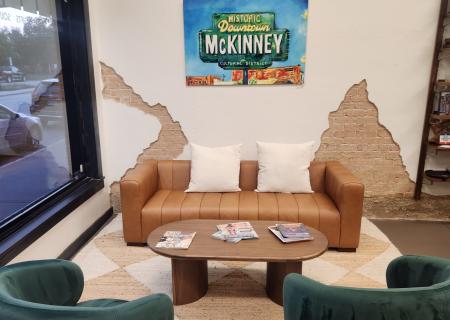 Our Experience Center is designed to be a welcoming place where visitors and residents can get a little taste of what awaits them in our community. Part of this experience is to give guests an idea of items McKinney small businesses create and sell here.
When visiting our Experience Center:
Select a complimentary snack, water, or coffee then relax a bit in our seating area where we also have reading material pertinent to Texas and McKinney. 
 
Explore the portion of our Visitor Experience Center where we offer products made by artisans and makers in McKinney and Collin County, with an emphasis on food and beverage as well as handcrafted gifts and goods. Items are carefully curated to ensure they're interesting to visitors and locals and provide a nice mix of products made locally. 
 
In addition to souvenirs and gifts, we also have brochures, magazines, and maps of attractions, restaurants, and more. 


Take advantage of one of our free guided walking tours, held two to three times a month, to learn more about the history of McKinney's downtown square and/or to learn more about the public art installations (murals, sculptures, and Tiny Doors) that can be found all around Downtown McKinney. The schedule of these tours can be found on our website and on the kiosk in front of our Visitor Experience Center. 
 
Snap a selfie (or one of our staff will be happy to take a photo of you and your family) in front of our mural, painted for us by local artist Andrea Holmes.
 
Slip on a virtual reality headset to get a peek at various places in McKinney you might like to visit.
We look forward to meeting you!
Our friendly team members are ready to assist you in making your visit to McKinney and Texas the most memorable visit possible. If you have a question before stopping in, give us a call at 972-547-2058 or email us at info@visitmckinney.com.
Below are photos of some of the merchandise available in our shop. We do not have online ordering, but wanted to provide a look at what you will find on a visit to our center.
Become a Visit McKinney Retail Partner
Are you a small business or maker in McKinney that would like to have products considered for inclusion in our store? If so, find details for submitting an application HERE.