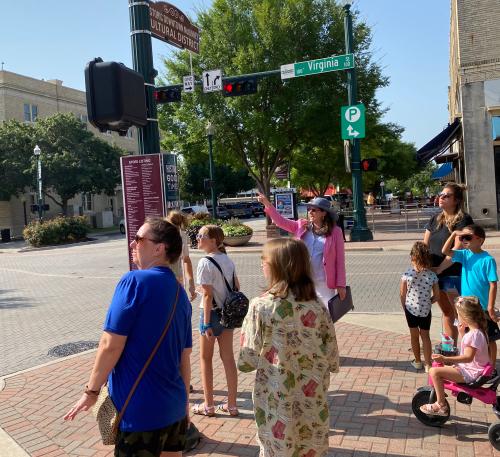 Visit McKinney is once again hosting free historic walking tours, offering them on the second Tuesday and fourth Saturday each month. Walking tours of McKinney's historic downtown help give residents and visitors a small look into the history that shaped this growing city. 
"McKinney's downtown square is a true gem and holds so many sights and stories of the special people and events that made our community what it is today," said Dee-dee Guerra, Visit McKinney Executive Director. "These walking tours have always been popular with both visitors and our residents. We took a break during COVID and provided people with self-guided tour maps instead, but once state mandates on COVID-19 were lifted, we knew it was time to bring them back!"
Saturday tours in July, August, and September feature Historic Preservation and Downtown Development Planner Paula Nasta as the tour guide. The guide for Tuesday tours will be the City of McKinney's former Historic Preservation Officer Guy Giersch. For tour dates, check our "Things to Do" section.
No reservations or tickets are needed to attend these free tours that leave from the McKinney Visitors Center at 200 W. Virginia in downtown McKinney. Water and snacks are provided and comfortable shoes are suggested. Anyone with questions about the tours may call 214-544-1407 or send an email. 
Some of the tours are kid-themed, oriented to keep the kids engaged while they learn about early McKinney settlers and the town's history. Check our website calendar for details and themes.