(Guest blog republished from CheckOutDFW.com with permission.)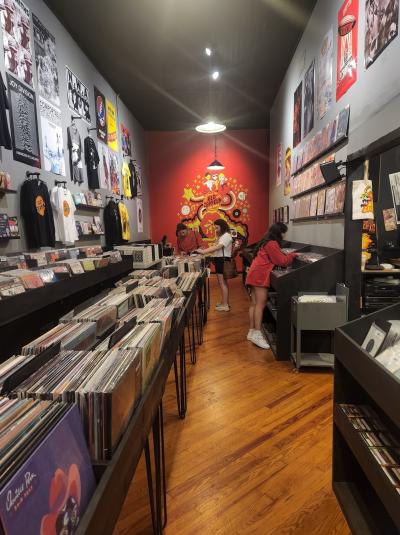 If you love vinyl records and music with an edge, you're in for a treat at Red Zeppelin Records. The downtown McKinney shop, which opened in 2020, is the creation of Katie Scott, who also owns The Groovy Coop in McKinney. During COVID, Scott got the opportunity to open Red Zeppelin Records and she's so glad she took the leap of faith. 
Check Out DFW caught up with Scott to learn more about her background, her love for music, and her record store.
Tell us about your background
I grew up in Longview, where I was introduced to a variety of music at an early age. I was a classically trained pianist from the age of 5 and was active in the school band through high school. My brother received an electric guitar for his 13th birthday, which broadened my taste in heavy metal and punk.
My parents gave me their records when I moved out and that is where my love for and collection of vinyl began. I went to UNT where my taste was expanded even more, especially in post-punk and dark, and new wave. I used my degree in counseling for several years including teaching 9th grade for Allen ISD but decided I wanted to, with the support of my family and friends, pursue my dream of being a business owner. I opened my first store, The Groovy Coop, in 2015 and followed that by opening Red Zeppelin Records in 2020.
 
Tell us about the history of the business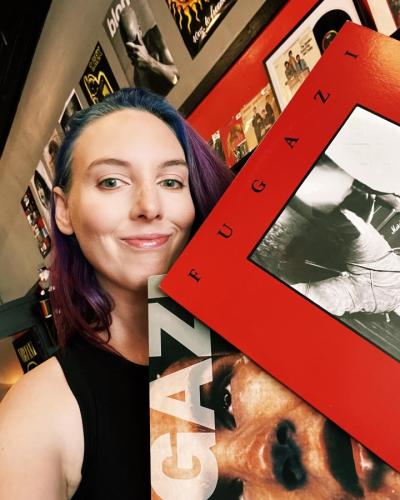 I knew I wanted to open a separate store specifically for records, specifically in downtown McKinney, but was waiting for the right location to come available. It just happened to occur during the early part of the pandemic, but I could not pass on such a great spot. We opened the store in July of 2020, won Best Record Store according to the Dallas Observer that fall, and expanded into the location next to us in January of 2022.
Why do you think the store has been such a hit in McKinney?
I think McKinney was in need of something leaning towards the more edgy side of things and we were thrilled to fill that void. You walk in and feel like you are somewhere completely different, and possibly back in time a couple of decades. We have wonderful repeat customers who we get to know on a personal basis which is a lovely thing, and then a variety of travelers that pass through daily and snag some records or a souvenir Red Zeppelin t-shirt to take home with them.
What are some of the more interesting records you've sold or bought?
Personally, I love when we happen upon a collection of original punk or metal vinyl, but that's just my taste. We currently have the Butcher cover of the "Yesterday and Today" album by The Beatles with the sticker pasted on top in an amazing condition which makes for a cool piece.
 
Why do you think record styles are still so popular today?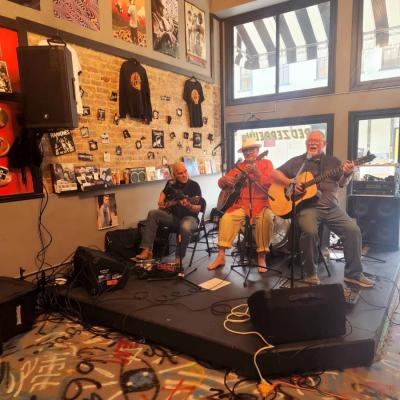 Records are more than music, they represent the full experience that the artist that created it wanted to convey to the public. It's about nostalgia, artwork, and getting to physically hold the album and listen to it from beginning to end.
 
Are there community events, causes, or work you do you'd like to note?
I am active in growing and expanding the variety of events held in the downtown area. Currently, I co-sponsor The Mystical Market, a pop-up market for creatives hosted quarterly in Mitchell Park, the next one being held on June 25 from noon-5 p.m. I also am hosting the first McKinney Pride event at my other store, The Groovy Coop, with the help of several key people in the community, with that event being held on Friday, June 24 from 2-6 p.m.
(Bottom photo: Red Zeppelin Records hosts live music, too, such as when this photo was taken during the Texas Music Revolution in early June 2022.)
See the full post on CheckOutDFW.com HERE.