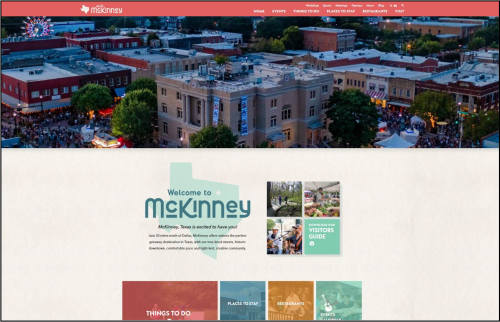 [McKinney, TX – October 26, 2021] Visit McKinney, the city's tourism organization, will host an official launch of their new website, VisitMcKinney.com, on Facebook on Friday, Oct. 29, at 2 p.m.
The organization did a soft launch of the website in mid-June 2021.
"Our staff has been working diligently since our soft launch to load in a huge amount of helpful information for those planning a visit to our city," said Dee-dee Guerra, Visit McKinney Executive Director. "We contrated with Simpleview, an agency that specializes in working with destination marketing organizations around the world. We really enjoy working with this new platform. It is so user-friendly, both for our staff and for those visiting the site."
The new site features less text, more links, and larger photos and buttons for easy access to a wide range of information potential travelers and residents can use in planning activities with family and friends. The site also contains a greatly-enhanced Planner Hub with a larger-than-ever section of tools designed for those interested in bringing business meetings, association conferences, leisure events, and parties to McKinney.
"We are excited to now have a more robust section featuring service providers and vendors that includes caterers, florists, photographers, spa and salon services, dance instruction, linen services, bakeries, and more," Guerra said. "Our goal is to be the go-to resource for those planning weddings, meetings, and other events in McKinney."
According to Guerra, the website will continue to grow and improve as staff identifies more service providers and vendors and as more restaurants, hotels, and attractions open in McKinney and the surrounding area.
"Our website primarily supports our McKinney-based stakeholders, but when it comes to venues, we do include those in the more rural areas and small towns surrounding McKinney," Guerra said, explaining that because these locations do not have hotels, their guests utilize McKinney hotels. "Visit McKinney is funded by a portion of the local hotel tax, so we strive to drive business to our lodging partners."
The new website features Visit McKinney's new visual identity with a fresh new logo and brand color palette. Simpleview also created this new branding for Visit McKinney.
Future plans for McKinney's destination marketing organization include launching an extranet in the upcoming months, a platform that will allow all hospitality stakeholders – venues, restaurants, hotels, service providers, etc. – to update their own information on the website including photos, special menus, and coupons.
"We're especially excited to be able to offer online coupons and discounts to our website users," Guerra said. "We repeatedly get requests from visitors about providing these items for their event attendees and visiting family and friends. The ability to offer coupons digitally will increase exposure to our tourism partners and be a nice enhancement for visitors during their stay here."
During the online launch, Visit McKinney staff members will highlight the new features of the website while walking through the new tools and information available, including the tools for meeting and event planners, brides, and others who wish to hold events in McKinney and the surrounding area.
"This new website and the new, fresh branding have already proven to be real game-changers for our organization and McKinney as a destination," Guerra said, explaining that Visit McKinney has seen a marked increase in website usage and interest from those requesting information about the city for both leisure and business travel.
The launch will take place on the Visit McKinney Facebook page from 2-3 p.m. on Friday, Oct. 29. The launch will also be available in video form shortly after completion of the launch so that Facebook users may watch it at their convenience.