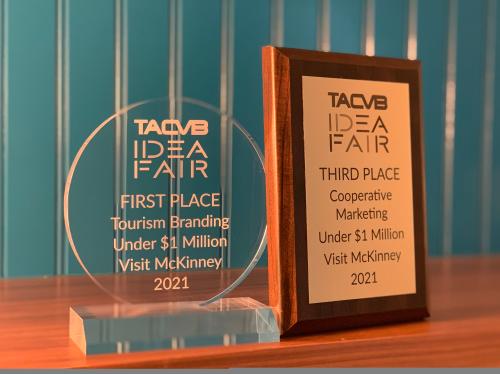 [McKINNEY, TX - September 13, 2021]  Visit McKinney, the City of McKinney's tourism organization, won two "People's Choice" Idea Fair awards that were presented at the Texas Association of Convention & Visitors Bureaus Annual Conference held recently in Conroe, Texas.

Visit McKinney received First Place in Branding for the new visual identity that the organization launched in May and Third Place in Cooperative Marketing for a 360-degree hotel video project completed earlier this year.

"We are honored to receive these awards that are voted on by our peers in the Texas tourism industry," said Visit McKinney Executive Director Dee-dee Guerra. "The first-place award in Branding is especially exciting! Rebranding is always a big step for any organization, and the destination marketing experts at Simpleview worked with us to create something that is truly original, a new logo and brand components that symbolize the spirit of what McKinney represents. It is so versatile with a fresh and welcoming color palette that offers a wide variety of options to help us communicate all that McKinney offers to our potential visitors! We are so pleased that the new brand has been so well-received with such positive feedback."

Guerra explained that the 360-degree hotel videos for which Visit McKinney took home a 3rd Place award in Cooperative Marketing, were created in conjunction with local design firm and map experts C.W. Designs to enable potential visitors to tour hotels virtually when making travel plans.
"The videos have proven to be very helpful, both for leisure travelers and for business planners looking for places to host meetings and other events," Guerra said. "Virtual tools like these videos have been especially helpful during the uncertain times brought on by COVID, when meeting planners aren't able to do site visits in person."

TACVB's Idea Fair promotes excellence in destination marketing by generating awareness of the quality work done by TACVB members as they promote their destinations to leisure and business travelers.
 
"We had a record 119 entries this year," said Jodi Willard, TACVB Idea Fair Chairman.  "The winners encountered strong competition and these awards are well-deserved".
 
About Visit McKinney
Visit McKinney promotes McKinney to potential visitors and travelers to generate an economic impact by influencing event planners and leisure and corporate travelers to choose McKinney as their destination.
About Simpleview
Since 2001, Simpleview has empowered more than 900 destination marketing organizations (DMOs) in the United States and around the world with customized web tools, knowledge, and creativity to help tell these destinations tell their unique stories.
About C.W. Designs
C.W. Designs is a locally-owned and operated design firm. Graphic artist Carol Sullivan (a.k.a. "The Map Chick") creates a wide variety of custom maps for weddings and other events as well as custom wedding invitations, programs, totes, and more.
About TACVB
Founded in 1972, the Texas Association of Convention and Visitor Bureaus (TACVB) provides professional development and training opportunities that give DMO professionals the competitive edge in destination marketing.