Have you been to the fun nightspots on East Virginia, between Highway 5/McDonald and Chestnut Street, a place with its own parking garage! Enjoy an evening featuring fun a couple of blocks east of the downtown square where you'll find a vintage arcade, a comedy club, sports bar, and a hooka lounge, cool places that keep that little corner of McKinney hopping!
Arcade 92
305 W. Virginia
Arcade 92 draws people of all ages daily since its first day. Featuring video arcade games dating back to the 1970s, it has a little something for everyone. Those who entered their teen years in the 1970s and 1980s will be thrilled to find the likes of Pac Mac and Ms. Pac Man, Centipede, Galaga, Joust, Tempest, Defender, Frogger, and more. As you work your way farther into the arcade, you'll find the games get newer, including Guitar Hero, some of the two player shooting games, and even chairs where you can enjoy old style Nintendo and other console type games.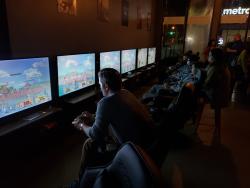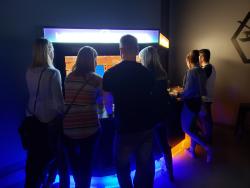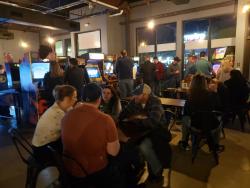 The third section of the arcade includes pinball, a 10-player game, and a wall (complete with comfy chairs) of e-games the younger set is more accustomed to. And of course, there's an area of tables for those wanting to take a break from playing to visit with friends while enjoying a drink or a bite to eat. 
TIP: Unlike the arcades of old, food and drinks (including adult beverages) are available for order from the Arcade 92 menu or a menu provided by Foxii's Sports Grill next door!
The beauty of Arcade 92, unlike those old gaming days when you needed a pocket full of quarters to have fun, costs $12 to enter, and all games are set to free play for one or multiple players. 
Hours
Mon. - Thurs: 11am - 11pm
Friday: 11am - 1am
Saturday: 11am - 1am
Sunday: 11am - 11pm
*The arcade is 18 and up only after 9 p.m. on Saturdays
*5 and under is Free with Paid Adult 
The Comedy Arena
305 E. Virginia #104
This fun improv comedy club opened in early 2017, and was the first of East Virginia Street, pre-dating the Chestnut Commons parking garage which opened just behind it in February 2019. Offering shows on Thursdays, Fridays, and Saturday nights and even shows on other days of the week. (Check their calendar for the schedule.) Their shows at The Comedy Arena offer fast clean improv comedy, a competition between two teams. They do offer a later adult show on Fridays and Saturdays with hysterical comics providing the laughs in a more R-rated show. Check their website, too, for classes and even the opportunity to schedule team building and training for corporate or other business needs. The bottom level of their space features a lounge where you can get snacks from their kitchen as well as drinks, and on the weekends, enjoy live music. The comedy arena is located on the upper floor.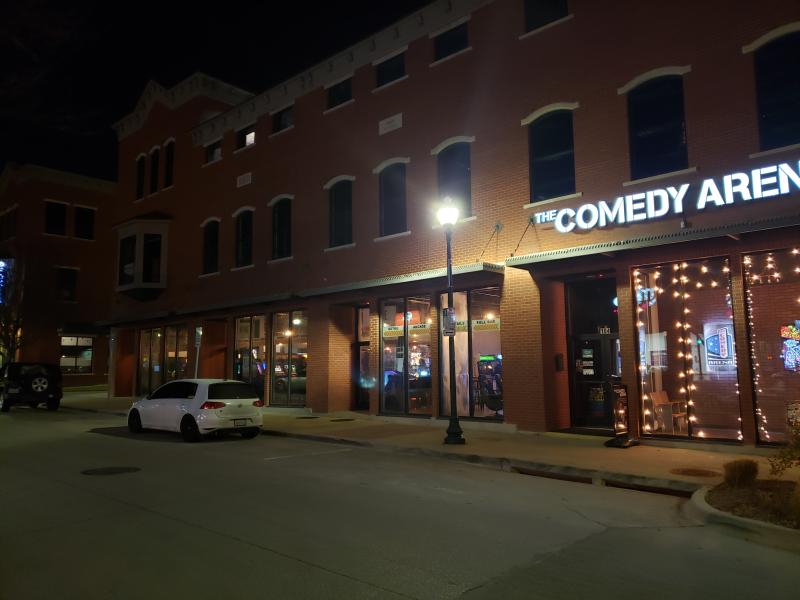 In great news just released yesterday, The Comedy Arena will be doubling in size by Summer 2020. According to Community Impact News, the stage and box office, in addition to two new restrooms, will be located upstairs. Downstairs renovations will include a bar, lounge area and cafe on the first floor, a change prompted by guests' requests to have food and drinks at the venue. 

TIP: When not open for comedy shows, The Comedy Arena offers classes in comedy and improv for adults and kids as well as team-building opportunities for groups from 10 to 300, with various offerings based on group size.

Hours: 
Thursday-Friday, 7-11 p.m.  Additional hours based on classes and other events.    
Foxiis Sports Grill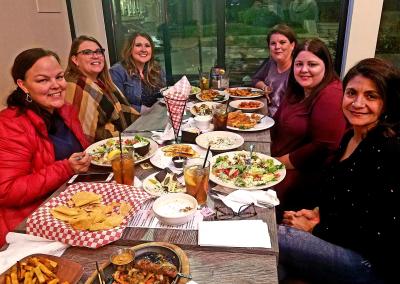 301 E Virginia St #103
In addition to the three fun spots discussed above, Foxiis Sports Grill is the go-to place for dinner on East Virginia Street. The restaurant is split into two halves. One side is the bar and several tall tables and wall-mounted TVs offering plenty of opportunities to watch sports. The other side of the restaurant provides for casual dining with friends, family, or a fun date night before hitting the arcade, comedy club, hookah bar, or tobacco shop!

Hours: 
Monday-Wednesday, 11 a.m.-10 p.m.
Thursday, 11 a.m.-11 p.m.
Friday-Saturday, 11 a.m.-midnight
Sunday, 11 a.m.-10 p.m.
El Fuego Tobacco Shop
301 E Virginia St #101
En Fuego Tobacco Shop is a premium cigar retailer, offering top-quality brands as well as a relaxing lounge for its patrons.  The cigar shop and lounge is located on the corner of Virginia and Chestnut Streets, just south of the entrance to the parking garage. 

Hours: 
Monday-Thursday, 10 a.m .-10 p.m.
Friday-Saturday, 10 a.m .-11 p.m.
Sunday, 1-9 p.m.
Amore Lounge Cafe & Hookah Bar
301 E. Virginia, #102
This Bohemian spot provides the perfect place for relaxing with friends for a coffee or tea, smooth hookah, fruit smoothies and milkshakes, soft drinks, decadent desserts, snack plates that are perfect accompaniments to any mix of drinks, and a lush and luxurious atmosphere. You can also enjoy some live music and belly dancing some nights!
Hours:
Sunday-Thursday, 4 p.m.-midnight
Friday-Saturday, 4 p.m.-2 a.m.