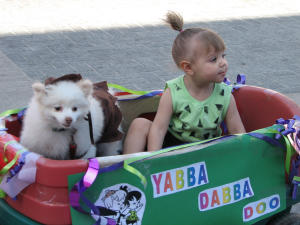 McKinney's annual pre-Mardi Gras event, Krewe of Barkus Dog Parade, turns 20 this year!
The first parade was in 2003 and had roughly 25 canine participants. Then in 2007, the late February or early March event, held the Sunday before Fat Tuesday, has offered a theme to inspire families to dress up their pups (and themselves), including everything from rock and roll to famous villains, comics and cartoons to reality TV,  and love stories to classic TV, to name a few. This year's theme encourages participants to pick any of the previous themes on which to base their costumes.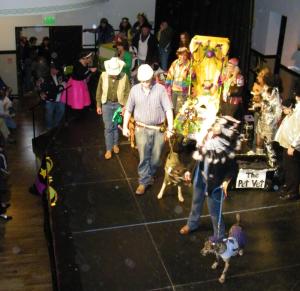 Downtown merchants donate prizes each year that are awarded based on judging including categories such as Best Dog & Owner Combo, Best Group, Best Float, and Best of Show, and awarded based on dog size categories as well. Most years, the crowds enjoy nice weather but there have been years when it has been bone-chillingly cold. (It is winter in Texas, after all!) One fairly recent year, the cold and bitter wind caused the event to be moved to the Chestnut Commons parking garage. And perhaps the worst weather year, 2010, forced the event inside of the McKinney Performing Arts Center when costumed dogs and their owners lined the hallways and stairwells before walking across the stage in the Courtroom Theater in lieu of a parade around the square (see photo at right).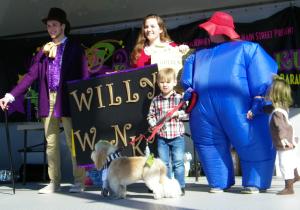 Registered participants will begin lining up at 12:30 p.m. Sunday and the parade around the downtown square starts at 2 p.m. An after-party will take place at The Yard immediately following the parade. Make sure to stop by vendor booths in Mitchell Park to find all sorts of pet-themed goodies! 

The History of McKinney's Krewe of Barkus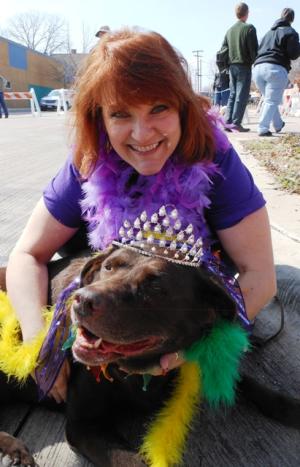 McKinney's Krewe of Barkus is the brainchild of McKinney artist Blynda Christian, a translated Louisianian, who founded and oversaw operations of the Art Institute of McKinney from 2002 to 2008. She told North Texas E-News in 2020, "Growing up in Louisiana, Mardi Gras is a big deal and great fun for me. I started the Barkus parade as a way for kids to learn about the culture in New Orleans, express themselves creatively, and bring families to the heart of McKinney – the Square. It was truly a grassroots effort."
To kick off the first parade in 2003, Blynda dressed her chocolate lab, Lady Godiva (pictured at right, taken at the 2012 parade), in Mardi Gras beads and a tiara and sent her photo out with a press release. Local media ate it up and the first event took place on a very quick timeframe with 25 dogs and their owners. The event has grown every year and now involves roughly 200 dogs with their humans taking part in the parade and a spectator count of as many as 5,000 in downtown McKinney for a Sunday afternoon event, many of whom also dress up and bring their dogs just to watch the festivities. A ragtime marching band was added to the event a few years ago, adding a nice touch as they provide Louisiana music to the event's ambiance. And each year, Mitchell Park is filled with vendor booths of dog treats and accessories as well as pet rescue booths. See some of the photos from prior events in our gallery at the bottom of the page. As you can see, the people of McKinney are quite creative!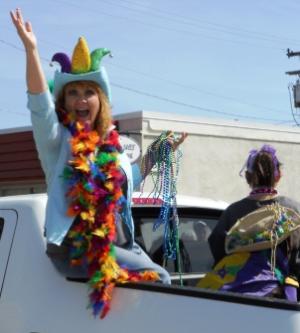 The team at McKinney Main Street oversees the event and Blynda continues to be involved in planning and registration while Stephanie Ferrar at Canine Cookie Company in downtown McKinney oversees the securing of prizes from local merchants. Also, watch for Blynda in the lead vehicle (See photo at right.) Lady Godiva "crossed the rainbow bridge" a few years ago, but her spirit lives on at the parade each year.
For complete information about McKinney's 2022 Krewe of Barkus, visit the event website.