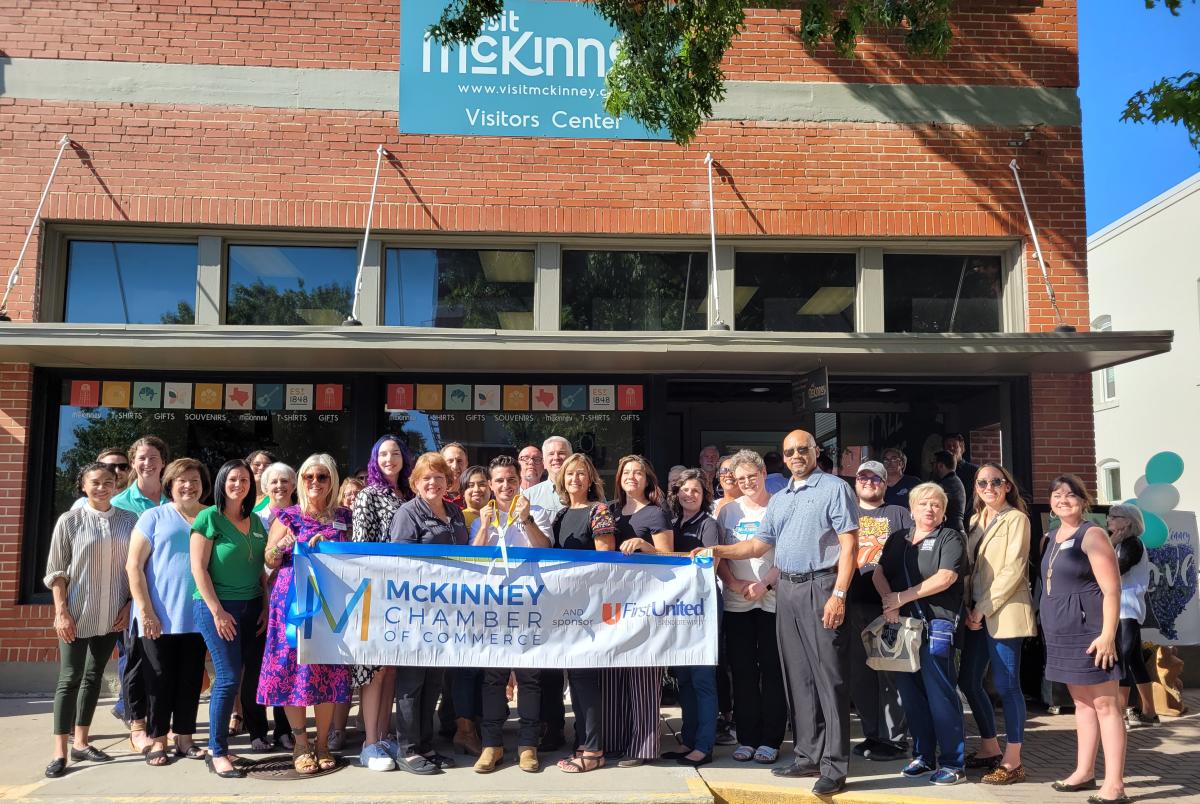 [McKinney, TX – Sept. 19, 2023] Visit McKinney, the City of McKinney's tourism organization, celebrated the official reopening of its renovated Visit McKinney Experience Center and the launch of a new shop earlier this month.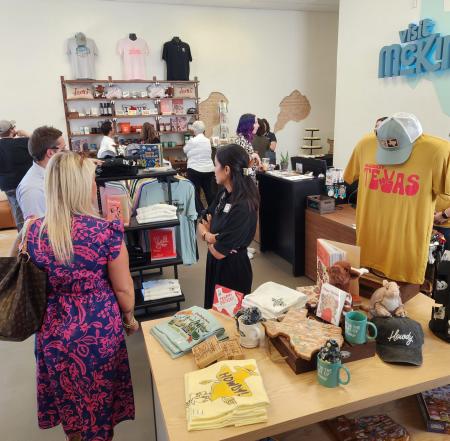 "Our goal was to create a welcoming place where visitors and residents could experience a little bit of what awaits them in our city," said Aaron Werner, Visit McKinney Executive Director, explaining that this goal was also behind the curation of some local merchandise to sell. "Part of this experience is to give guests an idea of items McKinney small businesses create and sell here."  
 
Getting a Taste of McKinney
Local businesses with merchandise available in Visit McKinney's shop include Hamm's Meat + Market, Kim Guthrie Art, Nature Nate's Honey, Spice and Tea Merchants, The Jelly Queens, and White Rock Soap Gallery. TexaKona Coffee Roasters worked with Visit McKinney to create a special McKinney Blend of coffee beans which are available by the bag. Guests may also enjoy a complimentary cup of this coffee when stopping by the Experience Center.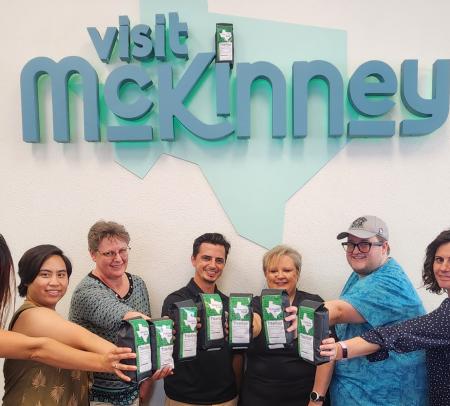 Renovations began in November 2022 and involved the removal of walls in the visitor center's front area, and fresh paint and new furnishings throughout the offices. Once this work was complete, Visit McKinney team members began outfitting the welcome area with furniture and retail fixtures as well as ordering merchandise. Bringing the shop operations and merchandise in-house is a new venture for Visit McKinney. In previous years, local merchants leased the space to sell gifts and souvenirs.
"We reopened our offices for use by staff and for meetings just before Thanksgiving, but we were only able to offer limited services for walk-in visitors – a few brochures, coffee, and water," Werner explained, adding that the office renovation began upon signing a new 10-year lease. Visit McKinney has occupied the building at 200 W. Virginia in Downtown McKinney since January 2013.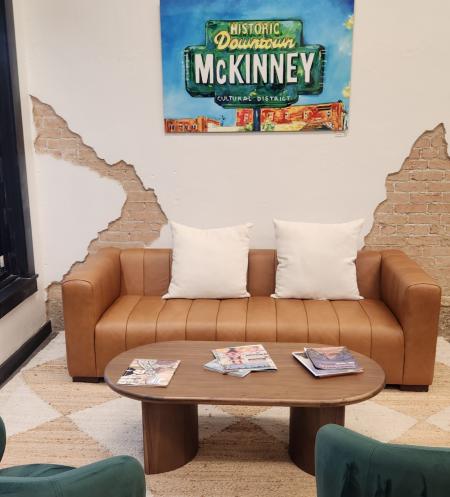 What Awaits You at Visit McKinney
Visit McKinney's redesigned space offers a comfortable seating area, a mural by local artist Andrea Holmes, and a virtual reality headset to allow people to preview various sights around McKinney. An outdoor kiosk plays a rotating set of photos and videos of places to visit and upcoming local events. Visitors may touch the kiosk screen to access the McKinney TX smartphone app where they will find information on local restaurants, attractions, places to stay, and more.
"We are also open on Saturdays again for the first time since our renovations began, something we've really missed being able to do," Werner said. "We've experienced great Saturday visitor traffic already, welcoming almost 100 people in the first two Saturdays alone."
Some aspects of the Visit McKinney Experience Center remain the same as before the renovation –guided downtown history and public art walking tours still meet and begin there, and guests can peruse a small rack of McKinney brochures and maps. A TV monitor, once positioned in the front window, now hangs on the back wall near the coffee service area and plays videos of places of local interest.
The Visit McKinney Experience Center is open Monday-Friday, 8 a.m.-5 p.m., and Saturdays, 11 a.m.-4 p.m. For more information, call 972-547-2058 or email info@visitmckinney.com.