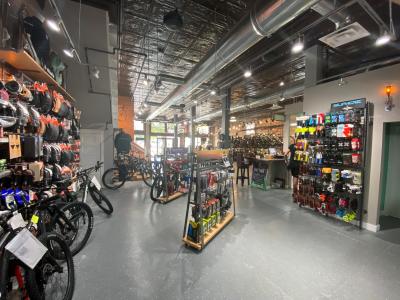 McKinney is an active destination for cycling, steadily gaining in popularity here since Cadence Cyclery opened its doors in Downtown McKinney 10 years ago. Now, in what happens to coincide with that 10th anniversary in July, Cadence Cyclery has moved its bicycle shop and coffee house, Wattage Coffee, into a new space just a few doors down from the space that used to house them. 
"Our downtown has such a great vibe for group rides and our location situates us perfectly for getting out into the country to ride," said Cadence Cyclery owner Chad Plumlee. In addition to regular daily group rides seen throughout the city, Plumlee adds, "There are also weekly mountain bike races during the summer at Erwin Park as well as criterium races nearby in Richardson."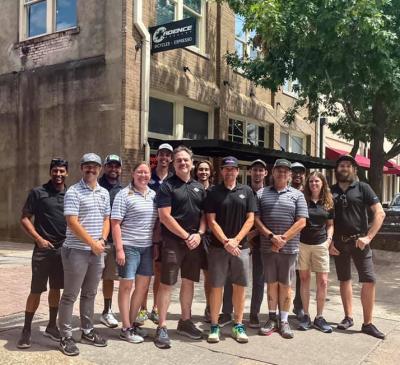 Plumlee frequented a neighborhood bike shop in his hometown, something that drew him to the idea of recreating that type of establishment here in McKinney. 
"I have always liked the feel of a hometown bike shop which is hard to recreate in a strip center," Plumlee said. "I grew up going to an old downtown bicycle shop in Sherman, Texas, and downtown McKinney has a similar culture."
Cadence first opened in a space a few doors south of their new location and added their Wattage Coffee Company to that space in 2018. Now both the bike shop and coffee house occupy the two-story historic W.O.W. building at 119 S. Tennessee.
(Note: Many of you who've been in McKinney for a while may remember it from when the funky restaurant and bar One Lazy Lizard operated there. You'll notice that the folks at Cadence have lovingly adopted the happy lizard sign that still occupies a space on the wall in what is now the bike shop!)
The COVID pandemic changed the way the Cadence team interacts with customers, as more of their customers shopped online during the shutdown and reopening. But Plumlee points out a positive thing that came about from the pandemic, positive for both his shop and for people in general.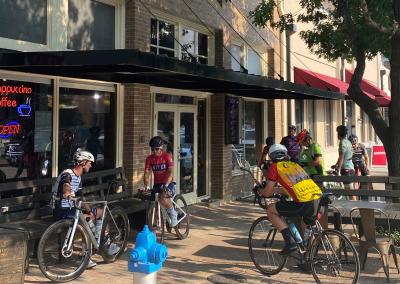 "A bright side to the pandemic," Plumlee said, "is that it encouraged people to rediscover outdoor activities like cycling!"
Check out both businesses' websites, or better yet, stop in, say hello, and enjoy a cup o'Joe while perusing the wide variety of bicycles and other gear found at the shop. And if you want to try a Saturday morning group ride, get more information about start times HERE.
Cadence Cyclery
119 S. Tennessee in McKinney's historic district
www.cadencecyclery.com
Also at this location:
Wattage Coffee Company
www.wattagecoffee.com