NOTE: Here at Visit McKinney, we always love meeting our guests who stop in to take part in our free historic walking tours, a fun program we offer in partnership with the City of McKinney Historic Preservation Office. Needless to say, we were thrilled to see that one of our recent tour attendees decided to share hers and her daughter's tour experience in a blog post on the Collin County Mom Collective website. And we were even happier when she gave us permission to share it here on our website. (Thank you, Rashida!) Happy reading ...
Looking to Combine Fun with a Hint of History in Downtown McKinney?
(Guest blog post shared with permission by the blogger, Rashida Rasheed. You may find the original May 30, 2022, post HERE.)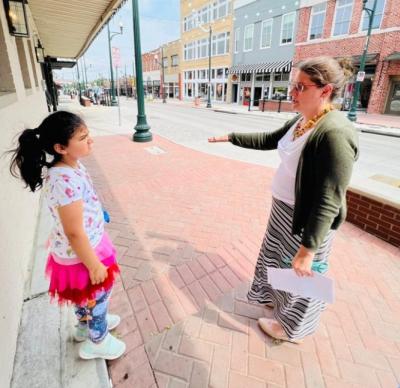 Looking for something fun to do with a hint of history/learning in McKinney? While McKinney is my home away from home and the place I spend the majority of my time, I realized I did not know much of its history, nor did my daughter.

Did you know Downtown McKinney offers guided tours, trolley tours, and self-guided tours?

The guided historic district walking tours are available for FREE on the second Tuesday and fourth Saturday of each month.

Trolley tours are not free but aren't terribly expensive: $10 for adults and $7 for children under 12, seniors, and military.

Self-guided tours are FREE and include a couple more adult-friendly options: Historic Commercial Building Walking Tour, Residential Historic Walking Tour, Architectural Buildings, and the McKinney Saloon Tour.

We chose a kid-friendly guided walking tour that started from the McKinney Visitors Center.

Our guide Paula, with the City's Historic Preservation Office, was really helpful. We learned about when and how the town of McKinney was founded, saw various old and reconstructed buildings, cotton mills, the old courthouse and jail, and the downtown movie theater that was a center of attraction (because it had air conditioning!). As part of the tour, Paula also showed us the murals that make up downtown McKinney—impressive!

I loved that our tour guide made an effort to involve my daughter Insiyah. Initially, Insiyah was more interested in going to the park. But as an educator, I knew that once we got going, she would get into it. And she really did, asking questions about the old jailhouse, about the decorative lights hung in downtown, etc.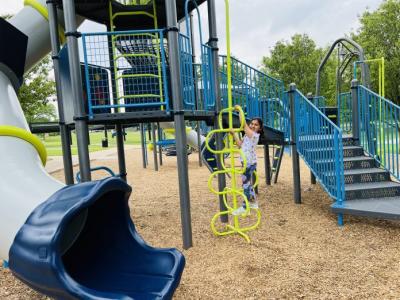 After being refreshed with knowledge we headed to Old Settlers Park for some play time.
I definitely recommend a walking tour with the kids as a way to sneak in some history while enjoying the fresh air.