Let's face it - summer weather in Texas is hot. There's no doubt about that fact. And while we all love spending time indoors, enjoying the air conditioning and indoor activities, there are still plenty of ways to enjoy the outdoors here in McKinney in July and August. Of course, taking a walk, run, or bike ride on the city's many miles of nature trails is a perfect way to stay fit, especially if you do so early in the morning or just before sundown when it's cooler. (Of course, the kids will be really happy if you stop along the way at a park with a splash pad!) But there are other experiences you can enjoy alone or with your favorite people - significant other, kids, or friends - to explore and learn more about nature. Below are a few ideas involving the Heard Nature Science Museum & Wildlife Sanctuary and Wild Birds Unlimited.
Native Texas Butterfly House & Gardens at The Heard Museum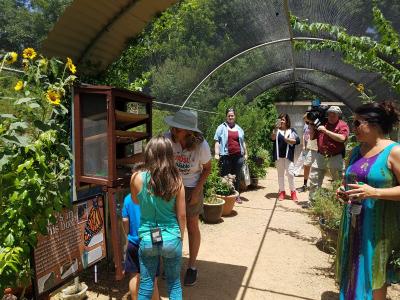 This beautiful and lush exhibit along the nature trails at McKinney's nature preserve includes plants and flowers to attract butterflies and their pollinator friends. These plants can also be found inside the butterfly house which also houses a variety of native butterfly species, "hatched" and raised inside the butterfly house. (The varieties you see vary based on what is available from suppliers.)  You'll also find areas within the house that help educate visitors about the life path of a butterfly. Stay awhile and watch the butterflies interact with their environment, but please try not to touch them as this could harm them. The butterfly garden is open year-round with plant life and the garden inhabitants there that vary seasonally. The butterfly house is only open in the summer through Oct. 2.
Bird Watching at the Heard
by Stephanie Jennings, Marketing & Communications Director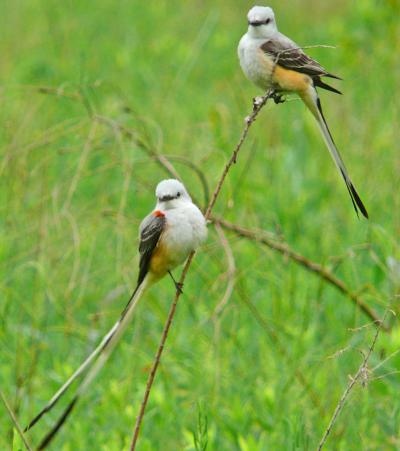 Heard Natural Science Museum & Wildlife Sanctuary in McKinney is a 289-acre nature preserve located in the Blackland Prairie Ecological Region. Once known for its expanses of grasses and forbs, this region is part of what is now considered the most endangered large ecosystem in North America. Though it once extended from the Red River to San Antonio, less than one percent of the Blackland Prairie is estimated to remain.
The diversity and health of the habitats at the Heard provide an increasingly rare opportunity to view a high number of bird species, both resident and migrant, in one location. These habitats offer resources that they require to survive, which are becoming more scarce elsewhere as development continues to spread throughout the region.
As a result, over 220 bird species have been observed at the Heard. More than 60 of those species have been documented nesting at the Heard. Visitors to the Heard in the late summer may have a chance to view a number of these species. Some of the species with the most visually striking feather coloration (perhaps making them easier to identify for beginners) include prothonotary warblers, painted buntings, indigo buntings, Northern cardinals, and Eastern bluebirds. The Heard wetlands, which offer the swampy forest settings Prothonotary warblers need for nesting, are a great place to look for this species. Many other exciting species may be spotted there, including the great blue heron. This species also nests in rookeries in the wetlands alongside several other heron and egret species. 
To see a complete list of bird species previously spotted at the Heard and more information about them, visit HeardMuseum.org/Birding.
Bird & Pollinator Classes at Wild Birds Unlimited
Information cultivated from Wild Birds Unlimited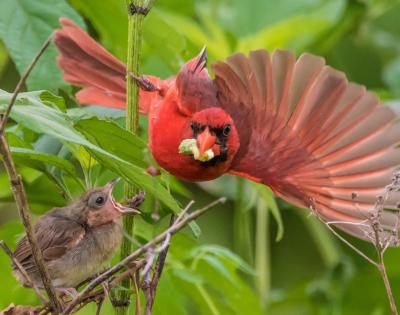 Summer is the most abundant season for birds to visit feeders. A vast variety of baby birds have been hatching throughout May and June, with many birds nesting well into late summer, i.e. bluebirds, goldfinches, cardinals, robins, and others. Having food available to them in the summer months greatly benefits them during their demanding post-nesting feather replacement. This weeks-long process of shedding and growing a new set of feathers requires more protein and fats in their diet than at any other time of the year. Keep your birds happy and healthy by keeping your feeders full this summer. Your birds will thank you by filling your backyard with color and life!
Monarch Waystations for North Texas Class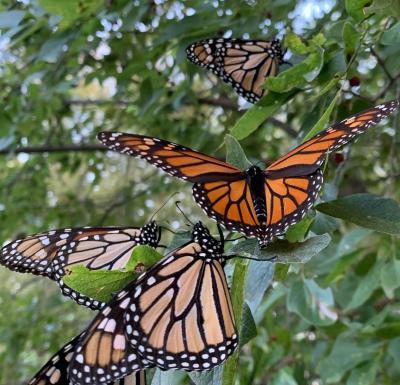 In addition to the wide variety of habitat products and education they provide in-store, Wild Birds Unlimited offers classes about taking care of birds and other pollinators throughout the year, including the monarch class being held on July 9 at 9:30 a.m. at their location at 3001 S. Hardin Blvd (just south of Eldorado). This presentation will feature a discussion with Carol Clark, a Monarch Watch Conservation Specialist and Texas Master Naturalist & Chairman of the Bring Back the Monarchs to Texas Committee. Carol's presentation covers the story of the monarch butterfly lifecycle and migration, explains threats to Monarch populations, clarifies common misconceptions about monarchs, and teaches why Texas is a pivotal location for the monarchs' future success. The program also covers real steps North Texas residents can take to help bolster the monarch population and what to plant to feed monarchs. This event will be held outdoors weather permitting. Seating is limited for this FREE event so you'll need to call ahead at 972-472-2022.