Antique tractors, a Ford Model T, family activities, and more are all yours to see and experience about at the Collin County Farm Museum, a hidden gem of a place that is a fun spot for all ages! Best of all, when going during public hours (Wednesdays from 1-7 p.m.), admission is FREE! What awaits you at the museum? All sorts of opportunities to learn and experience both new and old skills, that's what! From the 8,528 square-foot facility that includes the restoration exhibits and collections to the other outbuildings on the property - a blacksmith shop, granary, and confinement house - the museum will give you and your family a better understanding of the life of early settlers through about the 1960s in rural Collin County. Any opportunity to drive out to and visit the gorgeous grounds and surroundings of Myers Park & Event Center is a treat! 
Farming Implements & Other Antique Equipment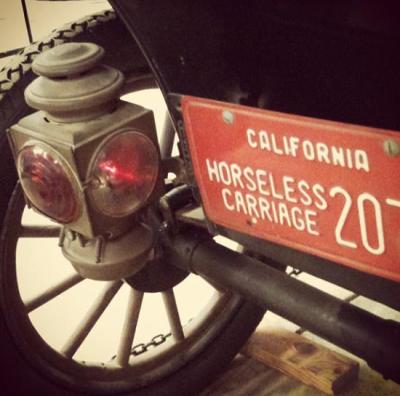 When visiting the museum, you may be lucky enough to catch some of the volunteers there; they are always hard at work restoring and maintaining the antique tractors and other farming implements at the museum. Don't hesitate to ask questions; they are always eager to share information about the work they are doing and have done with the various pieces of equipment as well as sharing some history about how the items were used "back in the day." They also take special care of the 1911 Ford Model T, a beauty of a "horseless carriage" that resides at the museum. 
Personal note: I remember fondly having the opportunity and privilege a few years ago (realizing in hunting down the photos that it was 2012) to take a class with the docents during which I and a few other "driving school classmates" learned how to start and drive that Model T. And it was a real joy when I took my dad, 79 at the time, out for a drive in it, using the learner's permit my class had all earned! My dad grew up in the car business - his dad and uncles had a Ford dealership in the Detroit area many years ago. He is a docent at a car museum in Los Angeles so he absolutely loved visiting with the volunteers working on all the equipment. (Sadly, the museum no longer does the Model T driving class, but make sure to find it and ask about this wonderful old vehicle while visiting.)
Needless to say, a trip to the Collin County Farm Museum is a great outing for all ages, but especially for grandparents to experience with their grandkids.
Classes Galore!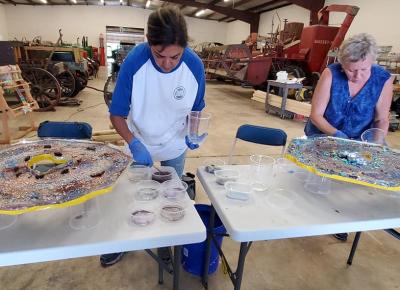 The Collin County Farm Museum is also a wonderful place to go for anyone wanting to learn a myriad of new skills. Museum Coordinator Jennifer Rogers develops a delightful calendar of workshops and classes each year, both for the public and for private groups. Upcoming classes starting in October include opportunities for you to make cheese, glass beads, bread, soap, enamel flower pendants, stone pendants, paper, and a wide array of simple crafts and holiday projects. There are also workshops on raised bed gardening, Dutch oven cooking, wire jewelry making, resin creation (shown at right), and even a series in February on making a backyard fairy garden box. Their 2022-23 catalog includes the full schedule with dates and prices. It's definitely worth checking out; you're sure to find something new for everyone in your family, young and old, to learn and enjoy!  
Homeschoolers, Tours, and Other Groups
Private workshops or tours are available at other times outside of normal public hours; you just need to arrange them through Museum Coordinator Jennifer Rogers at the links below, depending on your specific needs. These include:
All About Myers Park & the Collin County Farm Museum
For everything you need to know about Myers Park & Event Center and the Collin County Farm Museum, simply visit their websites. Myers Park offers a wide range of indoor and outdoor meeting and event space (it's a wonderful wedding venue) as well as hosting events from garden shows and plant sales to dog agility competitions and livestock and horse shows. From time to time, you may even catch a traveling circus, monster truck show, or mud run, or other cross-country race on the expansive and scenic acreage!