'Where is the Benji House?'
This is a question we hear often at the McKinney Visitors Center as people inquire about the filming location that put McKinney on the Texas Film Commission's Classic Film Trail. Benji, the classic movie shot in McKinney in 1973-74, included quite a bit of filming in a run-down house at 1104 S. Tennessee just a few blocks south of Historic Downtown McKinney. Not long after the film wrapped production, the home was transformed into the beautiful powder blue Dowell House Bed & Breakfast, and inn that occupied that spot for almost 40 years ... until the owners retired a couple of years ago. People driving by the old home lately no doubt notice it is once again being lovingly restored to its former glory! The TFC has some more information about this film location on the commission website.
Other films and TV shows on the Classic Film Trail include The Alamo, Bonnie and Clyde, Giant, Hope Floats, Leap of Faith, Logan's Run, Urban Cowboy, and Miss Congeniality, to name a few.   
 
McKinney is a Proud Texas Film Friendly Community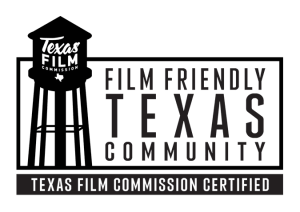 The official designation was announced by Texas Governor Greg Abbott in February 2019, certifying McKinney as a designated Film Friendly Texas community with the Texas Film Commission.

Visit McKinney earned the designation in 2019 after completing the multi-step training and certification process required by the Texas Film Commission. The TFC helps to grow local jobs and local economies by promoting the Lone Star State as the premier destination for film, television, commercial, animation, visual effects, and video game production.

McKinney has hosted film crews from a variety of TV shows and movies as well as commercials and we'd love to work with you! Among past projects are: 
YOLO TX (TV Series: 2020) 
The Daytripper (TV Series: 2020)
Publishers Clearing House commercial with Terry Bradshaw (2020)
Virgil, Texas Revisited [retrospective on 30th anniversary of True Stories] - (2017)
Undercover Boss – Marco's Pizza (TV Series: 2016)
Prepper (2016) 
The Real Housewives of Dallas (TV Series: 2016) 
Hoovey (2015)
Lone Star Law (TV Series: 2015)
Rooms To Go (Commercial: 2015)
Toyota (Commercial: 2015)
Shark Tank, Season 5 (TV Episode: 2013)
Catfish (Reality Show MTV: 2014)
Troubadour TX, Season 3 (TV Episode: 2014)
Language of a Broken Heart (2011)
Chase, Season 1 (TV Series: 2010)
Prison Break, Season 2(TV Series: 2006)
A Promise To Carolyn (TV Movie: 1996) 
Walker, Texas Ranger(TV Series: 1993-2001)
An American Story (TV Movie: 1992)
A Killing in a Small Town (TV Movie: 1990)
When the Time Comes (TV Movie: 1987)
True Stories(1986)
Benji (1974)

The City of McKinney joins more than 140 Film Friendly Texas communities that receive ongoing training and guidance from the Texas Film Commission on media industry standards, best practices, and how to effectively accommodate on-location filming activity in their community. The Texas Film Commission in the Office of the Governor's Economic Development and Tourism Division has attracted $1.39 billion in local spending and created more than 153,000 production jobs across the state from 2007 to 2017.

Visit the Texas Film Commission website and the Texas Film Friendly community program page for more about the Texas Film Commission
 
Working with McKinney on your project
McKinney is happy to accommodate your project, no matter how small. Contact Beth Shumate, Visit McKinney communications manager, via email or direct phone line, 972-547-2061. She will be your liaison to connect you with the people and resources you'll need. For a glimpse at our locations that are registered with the Texas Film Commission, click HERE. For other photos of sites within our community, contact Visit McKinney at media@visitmckinney.com for a site visit or to request photos.