(Updated March 2023)
Film tourism, also known as film-induced tourism, "explores the effects that film and TV productions have on the travel decisions made when potential tourists plan their upcoming holiday or visit to a destination," according to the Tourism Tattler. Here at Visit McKinney, we look forward to any chance to work with the Texas Film Commission and their counterparts at the Dallas Film Commission, since that office works closely with metroplex cities/towns where Dallas-area productions might film. (When a production team comes to a large area, they may film bits and pieces of their movies or shows in various locations, such as when "Benji" was filmed here in 1973-74 and also used locations in Denton and a couple of other nearby places.) And when we do get the opportunity to work with a film crew, we never know what kind of film-induced tourism could result for the community.
The Benji film spawned multiple "sequels," whether or not they were related to the original story, but one "sequel" project was filmed primarily in McKinney - a 1983 Saturday morning series called "Benji, Zax, and the Alien Prince." Granted, it may not be award-winning TV from a production standpoint, but you can see so much of downtown McKinney's streets as it looked in the early 1980s. It's fun to see so many recognizable spots and trying to figure out where other spots are because they look so different from how it looks now. You can find the full series playlist on YouTube. 
'Where is the Benji House?'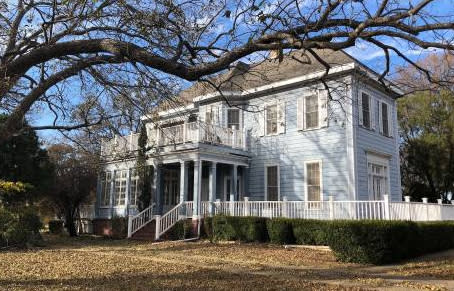 This is a question we hear often at the McKinney Visitors Center as people inquire about the filming location that put McKinney on the Texas Film Commission's Classic Film Trail. Benji, the classic movie shot in McKinney in 1973-74, included quite a bit of filming in a run-down house at 1104 S. Tennessee just a few blocks south of Historic Downtown McKinney. Not long after the film wrapped production, the home was transformed into the beautiful powder blue Dowell House Bed & Breakfast, and inn that occupied that spot for almost 40 years ... until the owners retired a couple of years ago. (The image shown at right is the home as it,) People driving by the old home lately will no doubt notice it is once again being lovingly restored to its former glory!
50 Years of Benji - Save the Dates! 
The original 1974 Benji film, was written, produced, and directed by Joe Camp and had a budget of $500,000. Every Hollywood studio turned down the film, so Mr. Camp formed his own film company to distribute the film himself! The movie went on to gross $45 million at the box office. And not only was the movie a hit with filmgoers, it's theme song, "I Feel Love" by Charlie Rich, was Oscar-nominated for Best Original Song.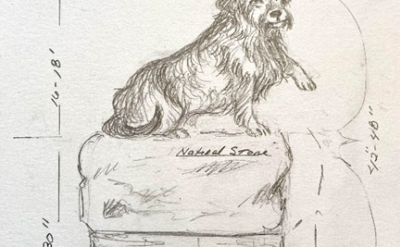 Now, almost 50 years later, McKinney is already celebrating the city's biggest claim to movie fame that came about thanks to one sweet, scruffy pup:
Benji Statue Unveiling: Feb. 12, 2023 
Benji Installation on McKinney's Downtown Square - March 12, 1 p.m. (SE corner of Virginia & Tennessee Streets)
50th Anniversary Benji Film Festival: Fall 2024 to coincide with the original movie's opening date
The Texas Film Commission has some more information about the Benji filming on the TFC's website, where the location is listed on the state's Classic Film Trail. Other films and TV shows on the Classic Film Trail include The Alamo, Bonnie and Clyde, Giant, Hope Floats, Leap of Faith, Logan's Run, Urban Cowboy, and Miss Congeniality, to name a few.   
To watch a news report from WFAA covering the filming in 1973, click HERE.
 
"Candy" on Hulu (May 2022)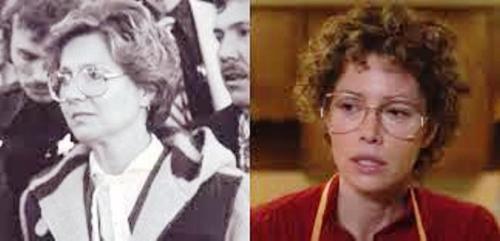 Film-induced tourism could result from a movie or TV show that actually filmed in an area - how many of you have fallen in love with some of the gorgeous Canadian locales used in Hallmark movies? - or even from a production that filmed in a different location than where it actually happened in the case of true story-inspired projects. Case in point is the recently-wrapped and now airing "Candy," a five-night series on Hulu inspired by the gruesome ax murder of Wylie mom Betty Gore by her church friend Candance Montgomery (shown in black-and-white at right) who lived in Fairview just a few miles south of McKinney city limits. (Also in the photo is actress Jessica Biel who portrays Candace in the Hulu limited series.)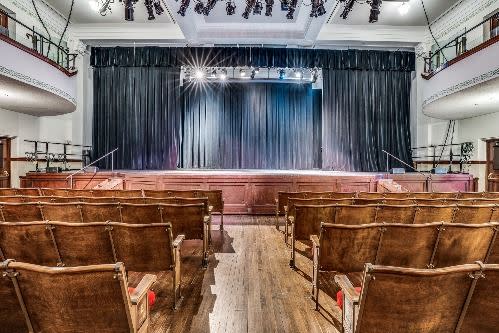 But why would this show potentially result in film-induced tourism for McKinney? What is our connection? Well, when it came time for her trial in 1980, the "new" Collin County Courthouse had just been built a couple of blocks south of the square, but none of its courtrooms were large enough to accommodate the crowd expected to attend the murder trial. (That courthouse has since been torn down and the Davis at the Square apartments now stand on that land.) The historic Collin County Courthouse in the middle of McKinney's downtown square had closed in 1979 when the "new" courthouse opened, but the county reopened it JUST for the Candace Montgomery murder trial and then closed it again. Candy's trial was the last one ever held in that building. The building reopened in 2006 after it had been restored and renamed the McKinney Performing Arts Center (MPAC), as it is known today. The courtroom where the trial took place is now known as the Courtroom Theater (see image above) and includes a temporary, folding stage where all sorts of concerts, plays, lectures, weddings, fashion shows, and more take place. Because of the building's historic status, the judge's bench and witness stand are still in that courtroom; they're just hidden behind the stage!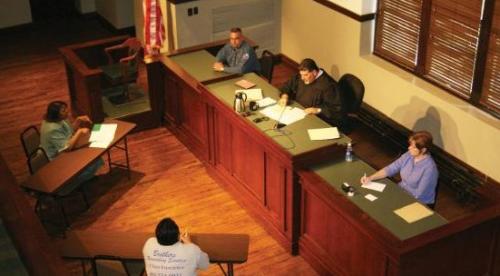 (Special note of interest: In the first few years the old courthouse was reopened as MPAC, Justice of the Peace Judge Paul Raleeh held actual night court there, using the original judge's bench. In the photo below, you can see the witness stand to the left of the judge's stand which is where the witnesses, including Candy Montgomery, sat when being questioned during her trial!)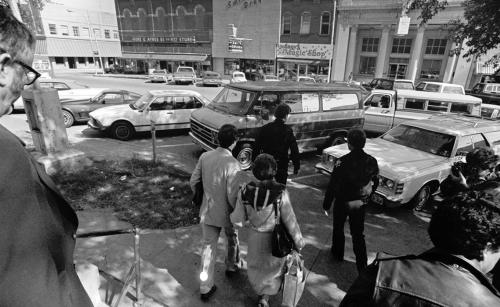 (The black and white image at right shows Candy and her husband Pat leaving the Collin County Courthouse. In the distance, you can see recognizable buildings around McKinney's downtown square. For more images from the trial both inside the courthouse and on the square, visit the Fort Worth Star-Telegram's page of photos from the trial.)
Yes, it was a shocking and bloody case, and yes, McKinney only serves as a small piece of the history behind it, but it's a recent enough piece of history that some in the area still remember when it took place and a few of those around here even attended it. In fact, I spoke with someone a few years back who was visiting the courtroom on a tour and I asked if she'd been in the building before. She nodded, and her face became a little serious with a slightly embarrassed grin as she whispered, "Yes, for the Candy Montgomery trial!"
This small piece of McKinney history will no doubt attract people wanting to learn more about the story and see where it all unfolded. And we welcome their film-induced visit! We would love for the project to have been filmed here, but it wasn't for lack of trying! We worked diligently with our friends at the Dallas Film Commission in scouting for the production team's requested locales - we even located Candy's house, thanks to directions from some lifelong McKinney residents - and we found most of what was on the list of assets they needed. But there are a lot of moving parts that go into one of these productions, and they found everything they needed elsewhere ... in Georgia! 
(Note: We don't want to ruin the ending for you if you're watching the show, but if you're interested, Texas Monthly ran a comprehensive two-part article in 1984, written by the authors of a book about this case, that is well worth the time reading, especially if you are a sucker for true crime stories. You can read part one HERE, and look for the link to part two at the end of part 1.)
McKinney is a Proud Texas Film Friendly Community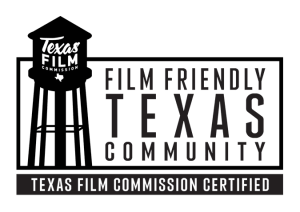 The official designation was announced by Texas Governor Greg Abbott in February 2019, certifying McKinney as a designated Film Friendly Texas community with the Texas Film Commission.

Visit McKinney earned the designation in 2019 after completing the multi-step training and certification process required by the Texas Film Commission. The TFC helps to grow local jobs and local economies by promoting the Lone Star State as the premier destination for film, television, commercial, animation, visual effects, and video game production.

McKinney has hosted film crews from a variety of TV shows and movies as well as commercials and we'd love to work with you! Among past projects are: 
YOLO TX (TV Series: 2020) 
The Daytripper (TV Series: 2020)
Publishers Clearing House commercial with Terry Bradshaw (2020)
Virgil, Texas Revisited [retrospective on 30th anniversary of True Stories] - (2017)
Undercover Boss – Marco's Pizza (TV Series: 2016)
Prepper (2016) 
The Real Housewives of Dallas (TV Series: 2016) 
Hoovey (2015)
Lone Star Law (TV Series: 2015)
Rooms To Go (Commercial: 2015)
Toyota (Commercial: 2015)
Shark Tank, Season 5 (TV Episode: 2013)
Catfish (Reality Show MTV: 2014)
Troubadour TX, Season 3 (TV Episode: 2014)
Language of a Broken Heart (2011)
Chase, Season 1 (TV Series: 2010)
Prison Break, Season 2(TV Series: 2006)
A Promise To Carolyn (TV Movie: 1996) 
Walker, Texas Ranger(TV Series: 1993-2001)
An American Story (TV Movie: 1992)
A Killing in a Small Town (TV Movie: 1990)
When the Time Comes (TV Movie: 1987)
True Stories(1986)
Benji (1974)

The City of McKinney joins more than 140 Film Friendly Texas communities that receive ongoing training and guidance from the Texas Film Commission on media industry standards, best practices, and how to effectively accommodate on-location filming activity in their community. The Texas Film Commission in the Office of the Governor's Economic Development and Tourism Division has attracted $1.39 billion in local spending and created more than 153,000 production jobs across the state from 2007 to 2017.

Visit the Texas Film Commission website and the Texas Film Friendly community program page for more about the Texas Film Commission
 
Working with McKinney on your project
McKinney is happy to accommodate your project, no matter how small. Contact Beth Shumate, Visit McKinney communications manager, via email or direct phone line, 972-547-2061. She will be your liaison to connect you with the people and resources you'll need. For a glimpse at our locations that are registered with the Texas Film Commission, click HERE. For other photos of sites within our community, contact Visit McKinney at media@visitmckinney.com for a site visit or to request photos.