A visit to McKinney always results in memorable experiences and one-of-a-kind places to explore, no matter the time of year. But visiting this North Dallas suburb during the fall months holds the promise of surprises and plenty of fun moments, thanks to signature festivals and plenty of activities found throughout this getaway destination.
Below are the Top 10 events taking place in McKinney this fall!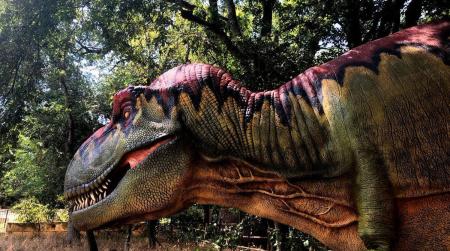 1. Dinosaurs Live! (Opens Sept. 2): McKinney's fall season kicks off with the arrival of the T-rex and his animatronic dinosaur friends move in at the Heard Natural Science Museum & Wildlife Sanctuary. The Dinosaurs Live exhibit that runs Sept. 2, 2023, through Feb. 19, 2024. Other activities and places to explore at the Heard are the Native Texas Butterfly House and Garden (open through Oct. 2), Second Saturday Bird Walks, and Zip Line Days.
 
2. Bar Wars Farmers Market Challenge (Sept. 18): Local restaurant bartenders will choose three ingredients from the McKinney Farmers Market and use them to create craft cocktails. The entry fee gives adult attendees 10 tasting tickets to sample the competing cocktails. An expert panel and attendees will vote for the Best of McKinney. Food, wines, and raffle item tickets are also available for purchase.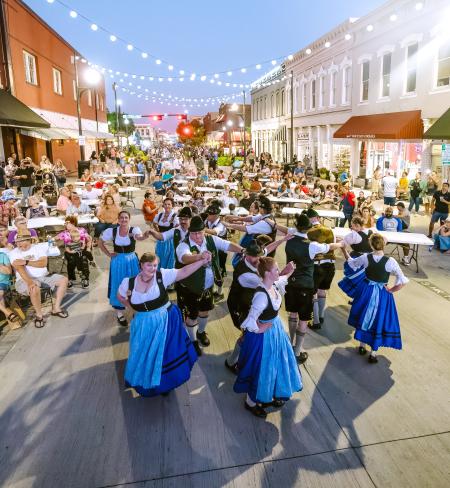 3. McKinney Oktoberfest (Sept. 22-24): Experience the most authentic Oktoberfest outside of Munich when McKinney's historic downtown square transforms into a Bavarian plaza filled with the sights, sounds and flavors of Germany - beer, food, music, games, dancing, and more. Younger visitors will enjoy the kids' area, the carnival, and events like the Weenie Dog Races. No tickets are required for this highly anticipated annual event, held Sept. 22-24. NEW THIS YEAR are two special hotel packages to enhance your McKinney Oktoberfest experience. Downtown McKinney is also offering a new VIP experience at the festival itself (this is included in the hotel VIP package); the multi-day VIP pass includes festival swag (commemorative stein, short, lanyard, and lapel pin) and exclusive food and beverage options, all experienced in the VIP Biergarten tent!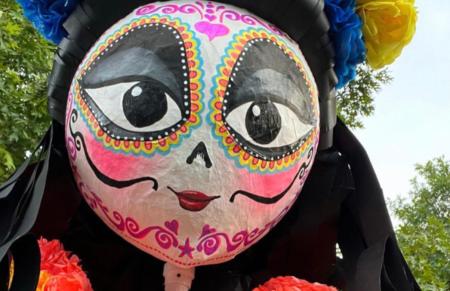 4. Dia de los Muertos (Oct. 14): McKinney's Día de los Muertos, a celebration of Latin American culture, will take place in McKinney's Mitchell Park in Downtown McKinney on Oct 14. This event, full of rich and colorful traditions, will feature food, music, dance, arts, and crafts, and an incredible costume contest. Multiple vendors offer wares and authentic food as well.
5. Halloween at the Heard (Oct. 14): The always-popular Halloween at the Heard takes place at the Heard Natural Science Museum & Wildlife Sanctuary on Oct. 14. Kids love this safe alternative to trick-or-treating that features walking the trails to find all the dinosaurs, an assortment of family-friendly activities, and the presentation of a movie at the Heard's amphitheater. Early ticket sales for Heard members take place Sept. 7-21, and are available to the public beginning Sept. 22. Grab your tickets as early as possible because this event sells out every year!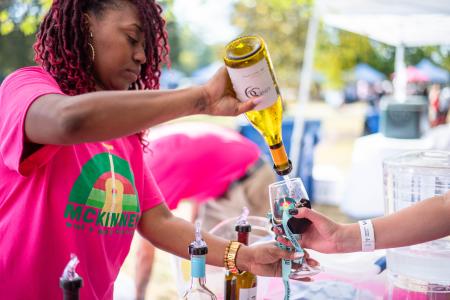 6. McKinney Wine & Music Festival (Oct. 14): Commune with nature at Towne Lake Park while taking part in the McKinney Wine & Music Festival. Here, you'll sample offerings from more than three dozen award-winning wineries and delicious restaurants while enjoying live music. There will also be 80 vendors offering their wares for sale.

 
7. Ratrodtober (Oct. 14): Ratrodtober brings hundreds of rat rods, hot rods, custom cars, and bikes as well as vendors to McKinney's TUPPS Brewery. This seventh-annual event takes place Oct. 14 and includes food, music, activities, and benefits a charity partner. Make it a weekend stay when you book a room at one of the event partner hotels in McKinney found on the event website.
 
8. Legends of McKinney Ghost Walk (TBA): Near the end of October, Chestnut Square Heritage Village celebrates Halloween with its Legends of McKinney Ghost Walk. Learn about the early McKinney settlers who lived in the houses making up the village and throughout Downtown McKinney, and hear ghost stories about which houses are reportedly haunted. Throughout September and October, Chestnut Square also offers nighttime ghostly haunting tours when attendees hear and see recordings of paranormal activity in the homes while touring the buildings.
9. Home for the Holidays ... a McKinney Christmas (Nov. 24-26): November ushers in the holiday season when the magic of twinkling lights, gorgeous store windows, and a 30-plus foot community tree create a magical ambiance in Downtown McKinney. Start the holidays with family over Thanksgiving Weekend at Home for the Holidays … A McKinney Christmas. During this three-day festival, the Downtown McKinney Square becomes a holiday wonderland filled with festive decorations, delicious food and drink, visits with Santa, music and dancing as well as a carousel and Ferris wheel. The carousel, Santa's workshop, the kids' craft area, and of course, the holiday decorations will remain in place for family fun through Christmas Eve.
 
10. Live Music at Multiple Concerts (September-November): Okay, so we're cheating a bit on this one. There are many great concerts taking place in McKinney this fall and it was too difficult to choose just one to feature here. Here is a list with links to tickets:
McKinney Fun All Year Long!
Other ongoing events and activities you can enjoy pretty much any time of year during a visit to McKinney include:
At Chestnut Square, visit the yearlong top-rated Farmers Market held every Saturday 8 a.m.-noon. from April through December and from 9 a.m.-noon from January to March.
In addition to Chestnut Square, history buffs can also explore the newest exhibit at the Collin County History Museum with its interactive exhibits featuring notable McKinney residents, past and present. History tours and events are also hosted at the Heard-Craig Center for the Arts. Or take a guided history or public art walking tour for a more personalized experience.
When visiting Downtown McKinney, you'll want to indulge in the flavorful cuisine at almost two dozen eateries in and around the square, many of which source their menu's ingredients from North Texas farmers and artisanal food producers. Many of these restaurants and the four wine rooms on the square also host live music from both established performers and even open-mic nights. Other entertainment options available in Downtown McKinney include a vintage video arcade, comedy club, and an axe throwing bar.
Plan your visit to McKinney this fall with this online trip planner!