McKinney Silo Mural Project
Public art expresses and supports a sense of neighborhood history, culture, and identity. It also attracts visitors and helps drive economic vitality; thus the purpose of a community's pursuit of special public art projects when the right time and opportunity present themselves.
Entities within the City of McKinney selected internationally-acclaimed Australian artist Guido van Helten to create a 100-foot-tall expansive mural on the cement grain silos and grain elevator at McKinney's Historic Flour Mill (East Virginia and Main Streets). The project was completed in late August 2022 pays tribute to the community's rich industrial and agricultural heritage as well as highlight the redevelopment east of State Highway 5. (Hear the artist talk about how he approached the project in the video below.)

About the artist:
Guido van Helten's oversized photorealism murals are featured around the globe and, like the McKinney project, are influenced by and representative of, the community in which they are created. His murals are painted with high-quality pigment paints in neutral colors chosen specifically to blend with the surface and bring out the existing industrial architecture of the structures. This approach ensures the artwork will weather well and complement the structure itself.
McKinney's Place on the Artist's "Monuments" Trail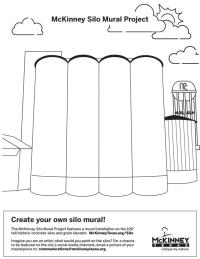 McKinney's silo mural will contribute to van Helten's U.S. silo series, "Monuments," a trail of murals across the country featuring other public art installations in Minnesota, Iowa, Kansas, and Arkansas. The City of McKinney is thrilled to be part of van Helten's mural trail that will attract art enthusiasts including fans of van Helten's work to visit our community.
The City created a fun mural coloring sheet to allow kids and adults to create their own McKinney silo mural. Click the image at right to access a downloadable PDF of this coloring sheet! And when you finish your creation, you can email it to the city at the email address on the bottom of the coloring sheet!
For more information about the McKinney Silo Mural Project and a list of its financial supporters, visit the City of McKinney's website. 
(Photo shown at the top of the page is by The Bat Drone.)