We Invite You to Visit McKinney this Fall!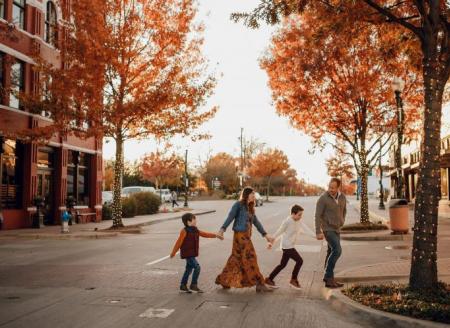 The fall months in McKinney are filled with great family activities and events as well as plenty of fun places to explore any time of year!
The fall event season in McKinney kicks off with Oktoberfest weekend in Downtown McKinney Sept. 22-24. or concerts by tribute bands at the amphitheater at Hub 121, or to explore the many nature trails in our city parks on foot or via bicycle. For a more immersive experience with nature, visit the Heard Natural Science Museum & Wildlife Sanctuary where you'll find miles of nature trails throughout the 289-acre wildlife sanctuary grounds, a kids-sized pioneer village, and various indoor and outdoor exhibits, many of which are hands-on learning opportunities for kids. Plus from early September through mid-February, the kids will love finding animatronic dinosaurs that move and row stationed along the nature trails. 
You'll definitely want to find all the wonderful murals and public art throughout Historic Downtown McKinney Cultural District to capture Instagrammable memories! When you visit this North Texas community, you'll find an array of spots to enjoy mouthwatering food and drink on a spacious restaurant or winery patio, learn about local art and history by taking a free guided tour of the downtown square (offered several times a month), hanging out with friends, or just enjoying time spent in a vibrant and welcoming destination by shopping, visiting museums, and more.
We invite you to explore our website to see what awaits you in vibrant, picturesque McKinney.
Click the following links to check out shopping, dining, family fun, the outdoors, and of course, where to spend the night ... or just explore on your own.