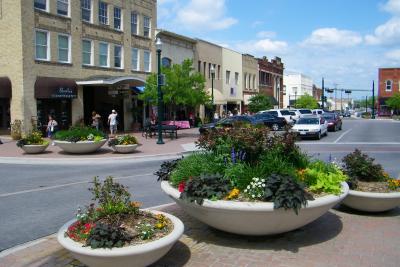 Making the move to a new city can result in a rollercoaster of emotions at times. Families move for a variety of reasons, whether it's for a job relocation or simply trying to find a refreshingly new area in which to reside. It's essential to be as prepared as possible and understanding your new city will make your move much easier to navigate. Following are some things to know when considering McKinney as your new home.
Having one of the oldest and most active historic downtowns in Texas in addition to an abundance of other attractive amenities, the City of McKinney regularly draws new homeowners to settle in this fast-growing county seat city. Whether it's the parks and open natural areas, great schools and thriving locally-owned small businesses, rich music and arts scene, or fantastic signature events and the welcoming people making up the community, McKinney has plenty to offer any new homeowner.
"Must-Check" Resources for Settling in McKinney
The City of McKinney offers a wide range of services to new residents, be it parks and recreation, library, business development, sustainability resources, and much more. Residents can easily access a myriad of information via specialized newsletters and other contact options like social media that will help you stay informed on all things McKinney! Also, make sure to check out links on the Living in McKinney page on our website that help you access city resources on culture and recreation, city services, doing business here, and senior living in McKinney. The city also has a Neighborhood Services Department that serves as the direct line of communication between residents and the city, and regularly offers workshops and classes for new residents. This department also puts out a great newsletter you may want to receive.
Survey the Education Options Available in McKinney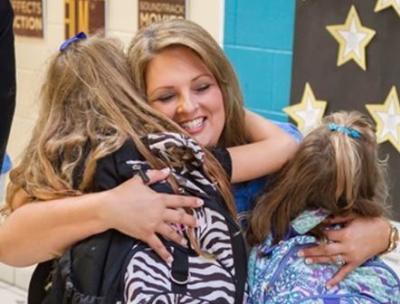 For families relocating with school-aged children, surveying a specific school district is no doubt a top priority. The McKinney Independent School District (MISD) is centered in Collin County and serves students in parts of New Hope, Allen, Fairview, Princeton, Prosper, Melissa, and Lowry Crossing. The school district currently admits more than 24,000 students spread across 20 elementary schools, five middle schools, three high schools, two alternative campuses, and one early childhood education center. MISD maintains 68 facilities while covering more than four million square feet on over 600 acres of land. The MISD also has robust special populations programs serving special education students from ages 3-21.
Every elementary school in McKinney is home to a small city park that can feature a variety of amenities – playgrounds, basketball courts, gazebo, small practice fields, etc. This is even true at schools within the McKinney city limits that are owned by other school districts – i.e. Frisco, Prosper, etc. If moving to McKinney and in need of schools, check the school district map to see if the neighborhood is zoned for McKinney schools or for a school operated by one of the neighboring cities.
For most homeowners, having a dedicated educational influence on your community has become increasingly common. Depending on your situation, homeowners with kids or expecting a child will find the utmost importance in securing the best education experience when moving your kids to their new town. This transition to a new school can be difficult for your kids, so try to make them feel as comfortable as possible by going to an open house, attending a sporting event, or scheduling a private visit in person before moving.
In addition to the public schools of the MISD, McKinney offers private schools like McKinney Christian Academy and charter schools like the Imagine International Academy charter school, and plenty of private preschools and Montessori options.
McKinney also has a thriving home school community featuring support associations, co-ops, and many specialized groups catering to homeschooled kids interested in sports, music, speech, and debate, and more. If you're interested in learning more about homeschooling support in McKinney, check out the Texas Home Educators website for a directory of services to get you started.
Higher education options are also available in McKinney. The main campus of Collin College, one of the least expensive community colleges in the state, is located here and offers a variety of associates degree programs as well as a dual-credit program through which high school students are able to earn college credits prior to getting their high school diplomas. This college system has other campuses, some quite specialized, located in other Collin County cities, but one other campus here in McKinney is the Collin Higher Education Campus which works with five universities in Texas to offer a variety of bachelor's, master's, and doctoral course work.
Find The Right Neighborhood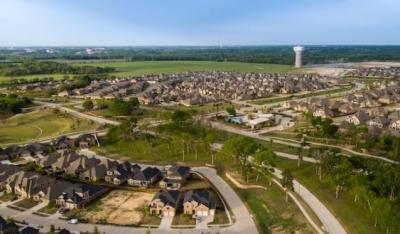 Finding the perfect neighborhood can be tough at times because there are a lot of outside factors that can affect your decision. It's essential to ask yourself, "what's the most important thing I'm looking for in a specific neighborhood?" For a lot of homeowners, elements like safety, proximity, price, education, and access are the highest priorities. Generally, finding a neighborhood that is safe, affordable, and in an optimal commuting location depending on occupation are the keys to finding the right neighborhood.
Similar to surveying the schooling options in McKinney, when you find a neighborhood that looks promising, explore the area to get a better feel for it. Drive around or search for any nearby parks to explore how proximity can impact the location of the neighborhood while building your personal perspective. Survey your surroundings for restaurants, grocery stores, libraries, or even a sports complex. If you have a serious concern, you can contact the McKinney Police Department's non-emergency number (972-547-2700) or better yet, check the safety ratings to help with your decision on the area where you'd feel most comfortable settling. One great piece of news for people considering a move to McKinney is the fact that SmartAssets.com ranked McKinney as 2nd on its annual list of the Safest Cities in America in in February 2023. And in 2014, Money Magazine named McKinney the #1 Best Place to Live in America.
Discover Your Dream Home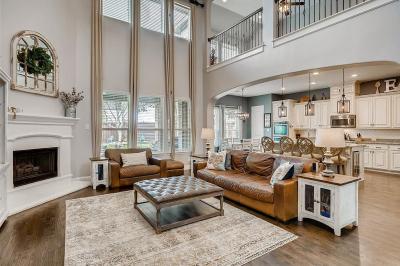 Once you have found the right neighborhood, it's time to discover your dream home. There are a variety of things homebuyers should consider when searching for the right home in McKinney. First things first, consider your budget and what housing style you're looking for. Ask yourself, "how much house can I afford?" As the intensity of buyer demand in today's housing market drives asking prices higher, it's crucial to be realistic about a reasonable price range for your budget. After confirming your budget, look into a mortgage preapproval to further streamline your process and make sure your offer stands out once you find your new home. In order to find the right home, there are a few things you should question. Do you want an older or a newer build? Two-bedroom or three-bedroom? Modern or traditional? Is the layout the right fit? There are a variety of physical traits that homeowners look for in unique homes.
Try conducting research on your own to help you prior to meeting with a real estate agent. Those based in McKinney are well-versed in the neighborhoods and amenities throughout town and will be able to assist you in finding a home that aligns with everything on your must-have list. Lastly, try to be as realistic as possible and don't get discouraged. The house-hunting process can be exhausting, so don't put all of your eggs in one basket and try to stay patient when searching for your forever home. New homes are at a premium right now with inventory being quite low. Be prepared to make multiple bids and don't be too disappointed if you make an offer that is rejected. Just keep trying and you'll eventually secure just what you want!
Make The Move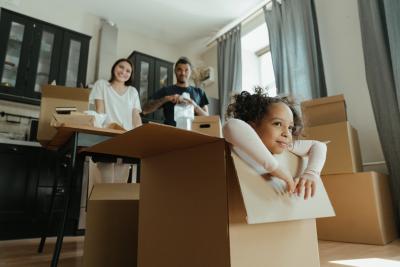 After locating the right home for you and your family, it's time for the most exciting, but also the most exhausting, part. Although the moving process can be strenuous, using these tips will help you move in a productive manner. Before making the move, create a thorough timeline, as this will allow you to plan your move in a timely fashion. Declutter and clean your previous property in order to collect everything you would need in your new home. Handling all of your belongings can be anxiety-inducing. Label cardboard boxes or clear bins in order to coordinate them according to their specific space. Depending on where you're moving from, it would be beneficial to hire a moving company. If you already live in the Northern Texas area, ask family and friends if they can help you with the move.
Once you arrive, conduct a walkthrough of your new property to make sure everything is the way you signed off on at closing. This is also a great time to create an unpacking schedule; some parts of the home are going to be less of a priority than others. By allocating time to certain rooms within the home, you will save time and energy. After you are done organizing your new property, do a deep clean and plug in any of your utilities or appliances and test them. Finding your fuse box and activating your water valve will help make the move official.
Getting Involved in the McKinney Community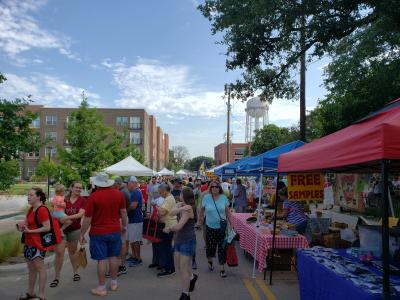 Once you get settled into your new home, it's time to really delve into the McKinney lifestyle and all there is to do here. Whether you're a foodie, a shopaholic, are outdoorsy, or love the cultural scene, McKinney has the perfect activity for you! Check out the many restaurants in McKinney, paying special attention to the locally-owned spots, many of which incorporate locally-sourced ingredients into their menus. The majority of these can be found in the downtown McKinney area, but there are plenty of others located throughout town. And if you enjoy creating your own meals with locally-sourced and fresh ingredients, you'll want to check out the McKinney Farmers Market at Chestnut Square.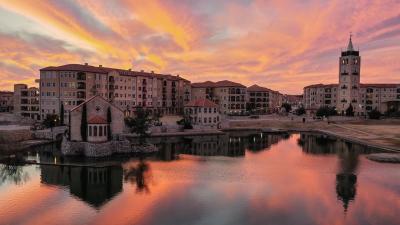 History buffs will be thrilled to learn that McKinney has quite a storied history. The three historic museums/attractions - Chestnut Square Heritage Village, the Heard-Craig Center for the Arts, and the Collin County History Museum - all share different aspects of the city's past and offer tours and special events to help you learn more. For outdoorsy folks, the Heard Natural Science Museum & Wildlife Sanctuary sits on 289 acres comprised of multiple habitats and offers more than five miles of hiking trails, a zip line and ropes course, a variety of nature walks, and many educational programs. And if you want a truly unexpected experience, you'll feel as though you've traveled to the Mediterranean when you visit McKinney's Adriatica Croatian Village located in the Stonebridge Ranch area of the city. Here, you can enjoy wining, dining, and live music, as well as a little shopping and even just some sightseeing.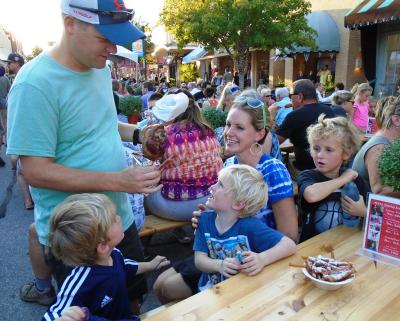 McKinney is home to a large number of annual events, too, the majority of which take place in and around the downtown square. From long-running events like Arts in Bloom in the spring, Red White & BOOM July 4th celebration in the summer, Oktoberfest in the fall, and Home for the Holidays over Thanksgiving Weekend, the downtown area always puts on a magical air at festival time. Add to these the newer festivals like the summer's Texas Music Revolution in downtown McKinney and the Drum Corps International marching competition at the McKinney ISD football stadium, and you'll see that there is always plenty to do!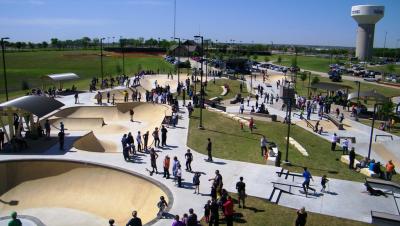 Among the thriving activities available in McKinney is a growing source of sports and recreational options including school and youth competitive sports leagues, recreational sports like skateboarding, cycling, and disc golf, or even attending the annual NCAA Division II collegiate football championship game or the prestigious and long-standing AT&T Byron Nelson Golf Tournament. Add to this the first-class tennis and pickleball facilities, beautifully-appointed and maintained parks system, and a variety of 5Ks and other races, and outdoor enthusiasts will find a wide range of places to get fit and enjoy the outdoors with their families.
For those who enjoy getting involved through volunteering, McKinney has an abundance of non-profits offering all sorts of volunteer opportunities. The best place to search for those in which you might be interested by consulting Volunteer McKinney through which the majority of McKinney's non-profits secure their volunteers. This organization's website is more or less a one-stop shop with volunteering options for all ages. And of course, for those new residents with school-aged children, each school always appreciates parents who have the time and ability to assist with various needs.